28 March 2022
Board game created by King's alumnus could offer insight into future of learning
A new board game developed by a King's College London alumnus could pave the way for a change in how subjects like politics are taught.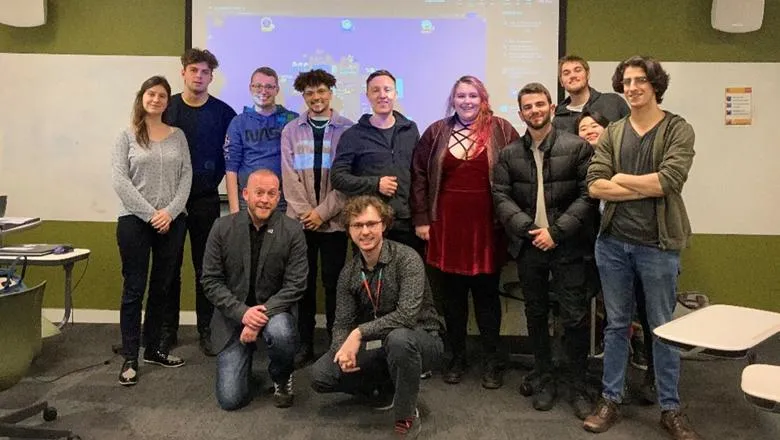 Dr Russell Foster (front row, first left) with some of the students who test-played Hegemony. Picture: CONTRIBUTED
A group of 17 King's students were invited to attend a playtest session for Hegemony, a political boardgame which allows players to simulate the workings of an entire nation, and the session was deemed a big success.
The game was designed and developed by Varnavas Timotheou, a former student of the Department of European and International Studies (EIS), with support from Dr Russell Foster, a lecturer in British and European politics education in EIS.
Dr Foster said the playtest was a "fantastic" way of getting students engaged in politics and offered a unique way for them to experience concepts like political co-operation, competition and diplomacy.
He said: "Games are played not just for fun, but in order to learn and develop skills for the real world. Games, and teaching and learning through gameplay, are important elements of education which is getting more serious scholarly attention.
"Because games allow us to see how processes like politics actually work, rather than just reading about them in theory or in real-world examples whose outcome we probably already know, the players' understanding of political concepts and there approaches to actually participating in politics, change with each new round and each new game.
"Playtesting Hegemony was a fantastic way of getting students excited about seeing politics from different eyes and experiencing how political cooperation and competition actually occur through diplomacy, deception, and appeals to abstract concepts like altruism and profit.
"This test was a superb foundation for us to incorporate games - board, card, role, and video - into the learning experience and ideally even assessments. Thankyou to everyone who participated in this pioneering project - and keep your eyes peeled for more games on degree courses."
Hegemony is an asymmetric political board game for up to four players that allows players to simulate a nation. They can engage in political intrigues, forge great economic strategies and astonish foes by cunning manoeuvres to carry out an agenda. Players can also create an ideological consensus, become the hegemon and lead their people to prosperity.
Varnavas said: "It was beautiful to see how well the game was received by the students and how much passion they showed in our playtest. Right now, we are focusing on giving the game the final touches and bringing it to the market. Simultaneously, we are working on more educational initiatives like giveaways for educational institutions, workshops, etc., in order to enhance the game´s educational impact."
In this story