20 August 2015
Book release: Culture, Economy and Politics
Dr Melissa Nisbett has worked alongside David Hesmondhalgh, Kate Oakley and David Lee on a new book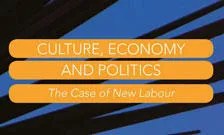 Culture, Economy and Politics: The Case of New Labour
Dr Melissa Nisbett, lecturer in CMCI at King's has worked alongside David Hesmondhalgh, Kate Oakley and David Lee on a new book called Culture, Economy and Politics The Case of New Labour which is due to be released next month.
With claims that the 'golden age' for the arts and culture in the UK was between 1997 and 2010, under the leadership of the New Labour government, Culture, Economy, and Politicsexamines and evaluates the party's approach to cultural policy and brings together social and political theory, to provide a detailed account of how policy was constructed and shaped.
It draws on literature and previously unseen material to tell the story of cultural policy under New Labour, covering a range of areas such as the arts, copyright, heritage, the creative industries, urban regeneration and regional policy.
The book will be available on Palgrave Macmillan on 9 September 2015.
In this story