14 July 2015
Bringing Medieval England to life online
A wealth of insight into the lives and legacies of thousands of medieval families is now available for free online
Ely Cathedral by Steve Cadman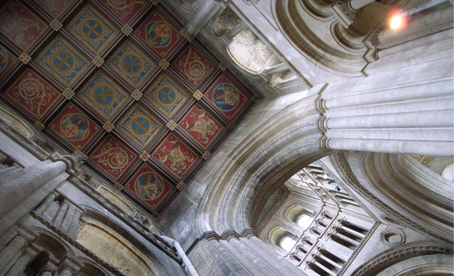 A wealth of insight into the lives and legacies of thousands of medieval families is now available for free online thanks to major collaborative research carried out by the Department of Digital Humanities at King's College London and the University of Winchester.
Mapping the Medieval Countryside today publishes the first tranche of  searchable English translations of inquisitions post mortem (IPMs) which will eventually cover the periods 1236 to 1447 and 1485 to 1509. The IPMs describe the lands held by thousands of families, from nobles to peasants, and are a key source for the history of almost every settlement in England - and of many in Wales.
The project has been funded by the Arts & Humanities Research Council and led by Principal Investigator Professor Michael Hicks (Winchester) and Co-Investigator Paul Spence (King's College London), with the support of a skilled team of researchers in History and Digital Humanities. A full list can be found at www.inquisitionspostmortem.ac.uk/personnel
Compelling case studies
For the past few years the project blog has been exploring interesting case studies revealed by the IPMs. One such is about the baptism of Philip Courtenayand gives incredible detail about the lives of some locals of Ashton parish in Devon who just happened to be present at Philip's baptism on the afternoon of Friday 18 January, 1404.
Mapping the Medieval Countryside is the latest in a series of historical projects in which the Department of Digital Humanities has been involved, exploring new ways to model, analyse and publish historical sources using digital technology.
"In making this material available to a wider public, we have been able to learn new lessons about how to edit complex historical materials and about the affordances and limitations of publishing them in digital form," says Spence.
Completing centuries of work
Professor Hicks describes the launch as "the culmination of the great historical enterprise – now almost 200 years old – to publish all the inquisitions post mortem".
Dr Matthew Holford, research officer on the project, adds: "The IPMs are the single most important source for the study of landed society in medieval England. They are widely used by academic historians and also by family historians, genealogists and local historians. Although they have been published, the printed volumes are difficult to access and cumbersome to search – this project makes a key source for the history of late medieval England freely available and widely accessible. It also lays the foundation, through extensive semantic markup, for much more detailed geo-spatial analysis of the medieval landed economy."
Visit the website at www.inquisitionspostmortem.ac.uk
In this story