29 June 2017
Btihaj Ajana's "Quantified Life" shortlisted for the Arts and Humanities Research Council's prestigious 2017 Research in Film Awards
Watch a new 13-min documentary film entitled "Quantified Life" by Dr Btihaj Ajana, created in connection with her current research into digital health and self-tracking practices.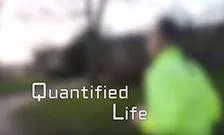 Quantified Life
A film made by Dr. Btihaj Ajana from Digital Humanities at King's College London has been shortlisted for the Arts and Humanities Research Council's prestigious 2017 Research in Film Awards.
The film, called "Quantified Life", has been shortlisted for the Early Career Film category. This 13-mins portrait documentary focuses on the self-tracking practices and habits of a dedicated self-quantifier from Denmark, Thomas Blomseth Christiansen. Thomas is no ordinary self-tracker. For the last eight years, he has been meticulously tracking and documenting various aspects of his life and health, ultimately ridding himself of his severe allergies and improving his overall health, as a result.
The film captures some of Thomas' experience while also providing reflections on the wider implications and ethical dimensions of self-tracking and quantification. Watching it makes you wonder: If your boss gave you a Fitbit, would you really be wise to wear it?
You can watch the film on Youtube here. 
Hundreds of films were submitted for the Awards this year and the overall winner for each category, who will receive £2,000 towards their filmmaking, will be announced at a special ceremony at 195 Piccadilly in London, home of BAFTA, on 9 November.
Launched in 2015, the Research in Film Awards celebrate short films, up to 30 minutes long, that have been made about the arts and humanities and their influence on our lives.
Mike Collins, Head of Communications at the Arts and Humanities Research Council, said: "The standard of filmmaking in this year's Research in Film Awards has been exceptionally high and the range of themes covered span the whole breadth of arts and humanities subjects.
"While watching the films I was impressed by the careful attention to detail and rich storytelling that the filmmakers had used to engage their audiences. The quality of the shortlisted films further demonstrates the endless potential of using film as a way to communicate and engage people with academic research. Above all, the shortlist showcases the art of filmmaking as a way of helping us to understand the world that we live in today."
Judges for the 2017 Research in Film Awards include Richard Davidson-Houston of Channel 4 Television, Lindsay Mackie Co-founder of Film Club and Matthew Reisz from Times Higher Education.
The winning films will be shared on the Arts and Humanities Research Council website and YouTube channel. On 9 November you'll be able to follow the fortunes of the shortlisted films on Twitter via the hashtag #RIFA2017.
In this story