20 September 2018
Cancer treatment to be revolutionised at new multi-million pound research hub
King's scientists will help drive the development of a new London based centre of excellence for the treatment of cancer.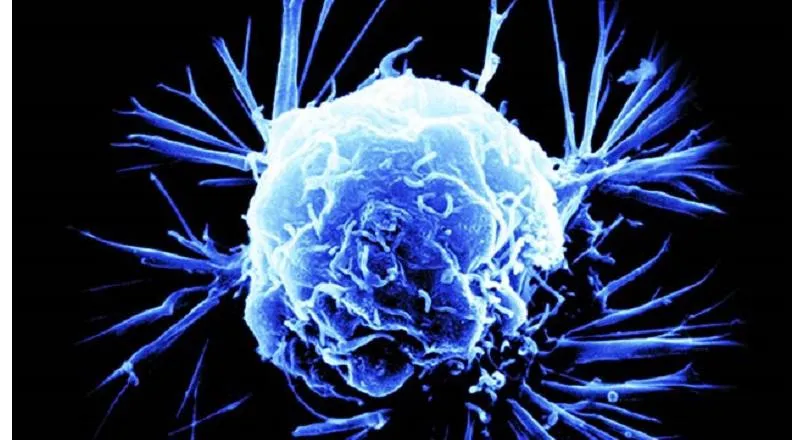 cell
King's, the Francis Crick Institute, UCL, Queen Mary University of London and Cancer Research UK (CRUK), will work together to harness the potential of biotherapeutics, the next generation of cancer treatments that are based on the manipulation of biological processes within cells to help fight cancer. CRUK has invested £14 million into the hub that will cement London's status as a world leading centre for cancer biotherapeutics research.
Cancer patients, including from some of the most deprived areas of the capital, will have access to the very latest innovations in biological cancer therapies, they'll also have the opportunity to take part in pioneering research as part of their treatment. Research will span all cancer types, including a focus on childhood cancers.
Professor Peter Parker, centre lead at King's College London, said: "Biotherapies in the form of immune interventions are revolutionising cancer treatments in some cancer patients. These exceptional accomplishments bring a compelling need to dig deeper into the underlying principles that bring success to these approaches, in order to develop a wider spectrum of interventions that deliver improved outcomes to a much greater population of cancer patients.
'The strategic alignment, concerted training and sharing of resources with our City of London Centre partners is crucial to delivering on this complex agenda, allowing us to exploit collectively the extensive capabilities and pioneering therapeutic approaches that King's and our City of London Centre partners have fostered over the last 15 years. This initiative is a watershed for cancer patients in London and far beyond.'
Dr Iain Foulkes, Cancer Research UK's executive director of research and innovation, said: 'Our investment represents a major vote of confidence in London's place at the heart of global biomedical research and is predicted to bring enormous benefit to the city's residents, businesses and hospitals.'
Professor Tariq Enver, centre lead at UCL, said:  'There have already been huge advances in biotherapeutics, many led from our Centre, and there's enormous potential to transform how we approach the hardest to treat cancers like brain tumours and lung cancer.
'Our ambition is for the Centre to stimulate further economic activity in biotechnology in London as new companies are formed, and industry partners move in to translate the most promising discoveries into marketable therapies. London's hospitals will also become flagship centres for treating patients with these new biological therapies, setting the standard for healthcare providers all over the world.'
Professor Charles Swanton, Cancer Research UK's chief clinician, noted that there are still several research challenges to tackle in understanding why some patients respond to these new treatments while others don't, and how to identify which patients might experience harmful side effects.
'Most importantly, we need to optimise activity to offer more patients access to these therapies who may benefit. With this substantial new funding and world leading expertise, the Cancer Research UK City of London Centre is especially well placed to deliver on these promises.'
The centre will provide valuable opportunities for collaboration and training. Sir Paul Nurse, director of the Francis Crick Institute, said: "By collaborating creatively with our university and hospital partners, we will secure the UK's position as a world-leader in cancer biotherapeutics, bringing enormous benefits to cancer patients and their families.'