29 September 2021
Careers Support for Underrepresented Groups
Alexandra Kytka, Communications & Engagement Officer
Take two minutes to register for our exclusive programme for underrepresented UK domiciled students.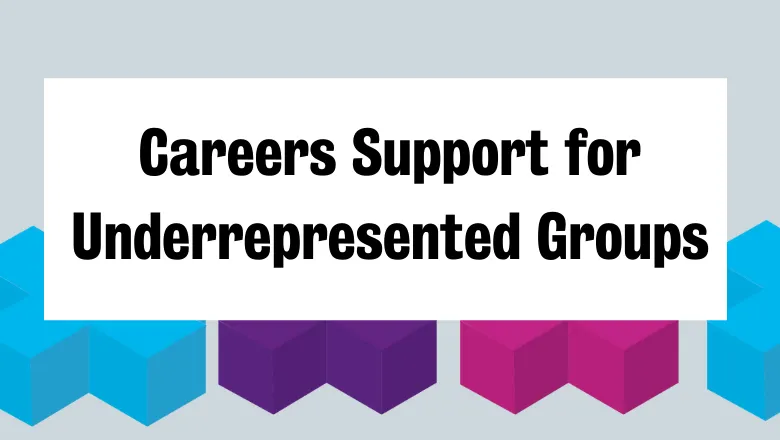 Attending university and thinking through career choices for after graduation can be a challenge for anyone. But for those who are from backgrounds which are underrepresented in higher education, that challenge can be even more difficult.
Careers+ (pronounced Careers Plus) refers to our programme of additional careers support for UK undergraduate students from under-represented groups. By taking two minutes to check if you are eligible and sign up, you'll have access to longer Careers guidance appointments, exclusive workshops, ringfenced opportunities, and more.
Who is eligible?
To be eligible for Careers+, you will need to meet at least one of the following criteria:
In receipt of the King's Living Bursary
Care experienced, young carer, estranged student or forced migrant
First in family to go to university (first generation)
Black, Asian and Diverse heritage student
Disabled student
From a Gypsy, Roma, or Traveller heritage
Mature learner doing a first degree
Taken part in Realising Opportunities, K+, or a Sutton Trust Summer School
Holder of the Sanctuary Scholarship/Jesus the Light Sanctuary Scholarship
On the Extended Medical Degree Programme or the Enhanced Support Denistry Programme
In receipt of a means-tested NHS bursary
In addition to the above criteria, you will need to be a UK domiciled undergraduate student who is currently studying or is within 2 years of completing their course.
How do I sign up?
It only takes about two minutes to sign up for Careers+! You will find the registration form in the "forms" section of your King's CareerConnect homepage.
Please note, you will not be able to view Careers+ specific events and workshops on King's CareerConnect until you have registered.
What happens next?
Once you are registered with Careers+, you will begin to get specialised content to your email from Ladan, your dedicated Careers Consultant for Careers+. She will update you on upcoming projects and work opportunities you can take part in and she'll be who you speak to when attending a Careers Guidance appointment.
King's Careers & Employability is committed to promoting equality of access and work hard to ensure our services and provision is accessible to all regardless of protected characteristics or personal circumstances. Through Careers+ and the rest of our programming, we hope we can aid in the challenge brought on by structural inequality in the UK.
You can read more about Careers+ here (for students with KEATS access only).
Reminder!
You need to be signed up for Careers+ before you can view or book onto this event (or future Careers+ events) so get registered!