09 January 2020
Catching up with an award winner
We spoke to Onyinye Udokporo, winner of the inaugural 'King's Future Alumnus or Alumna of the Year' award.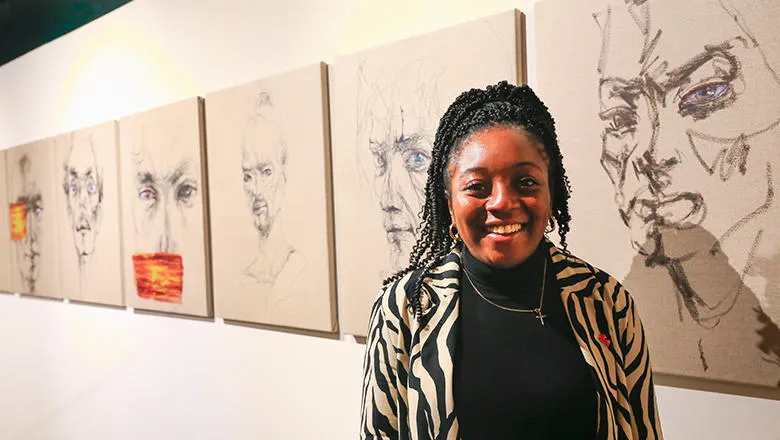 In 2018, Onyinye Udokporo (Religion, Politics and Society, 2019) won the inaugural 'King's Future Alumnus or Alumnae of the Year' award (then known as Student of the Year) as an undergraduate. She's now studying for a Master's degree at King's, in Education, Policy and Society. We caught up with her to find out how this award win has had an impact, and what she's up to now.

Do you remember the moment you found out you had won this award?

I was sitting in a lecture, when I saw an email drop into my inbox with a subject line that said 'Congratulations'. I looked at it with some scepticism, and then forwarded it to my Dad and said 'Dad, I think this email is fake'. And he replied, saying 'Er, Oniyinye, I don't think it is.' So I contacted the Alumni Office, and after I had spoken to the team there and found out that the awards were genuine, it took a little while to sink in. I still don't know how I got nominated!

What impact has winning a King's Distinguished Alumni Award had on you?

Winning this award has a hugely beneficial impact on my life, mainly because having such a respected institution as King's give you an award like this has made people take me seriously. Beforehand I was 'just' an 18 or 19 year old woman – I felt like I had good ideas, but at that age people don't take you seriously because, well, why should they?

Winning this award didn't just mean I could put it on my CV and forget about it – King's were brilliant at really promoting it too. I was on the cover of InTouch (the King's alumni magazine), and that meant that I actually started to get recognised by some King's alumni, which in turn has opened so many more doors for me.

I grew up in North London, and I knew that I wanted to stay here to go to University, primarily because I wanted to make the most of the opportunities that being in London afforded me. Studying at King's meant that I was able to continue running the business I had set up when I was 12 (Enrich Learning), continue the work I had been doing with the City of London Corporation, and get involved in all sorts of other things. Like anybody else, I've had low points where I felt like I wasn't good enough or questioned why would anyone want to employ me – after I completed my undergraduate degree, I applied for loads of jobs and got rejected 39 times. So I told myself, well, if King's are going to give me the Student of the Year Award, I need to pick myself up and keep moving: in that way it's really helped my self-confidence.

Did you enjoy the ceremony?

I've been to two! The first one in 2018 was a lot smaller affair than the second one, not that I have a problem with that (laughs). They were both amazing experiences. The fact that I, as an undergraduate, was able to speak face to face with Professor Ed Byrne, the President and Principal of King's, was amazing. And it now means that if there's something I'm really passionate about, I now have the opportunity to make direct contact. I also met some amazing alumni there that I'm still in touch with today.When I received my award, I was right in the middle of my exams so I was worried it was going to be hard to fully relax. But I found myself sitting there, not quite able to believe that I was about to receive the first student of the year award (with my imposter syndrome in full voice), and I had an amazing time. No matter how many other awards I might win in my lifetime, if I even win any more, this will always be a significant one for me given what it has helped me achieve, and the people it has given me the opportunity to build relationships with.

What would you say to people thinking about nominating someone for these awards?

These awards are a brilliant initiative from King's. For me personally, it brought together the King's student and alumni communities in a way that I hadn't thought possible, which meant that I was given exposure to some really impressive alumni. I also felt that it gave me a much clearer insight into what the real, non-university world looks like: it's very easy to get stuck in the university bubble of lectures and essays and exams (and partying), and the awards made me realise that actually, there's more to life than university. That doesn't mean I'm not going to focus on university at the moment, but it does mean that I'm going to use the time I have wisely and purposefully, and it gave me a much greater sense of structure.