01 June 2021
Celebrating our community of volunteers
Discover volunteering stories and how you can give back this Volunteers' Week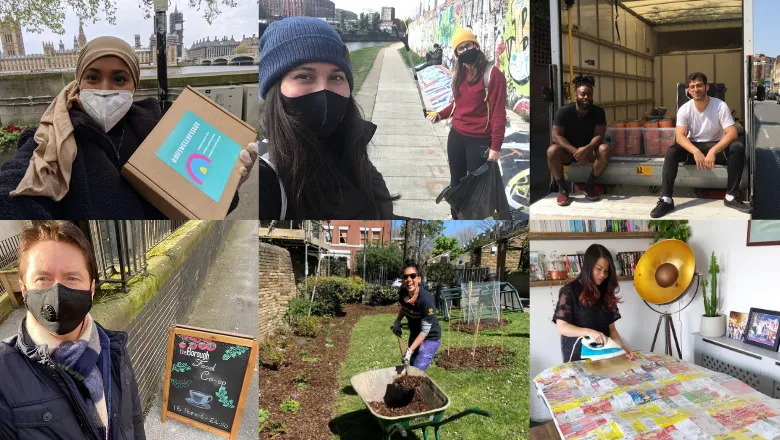 Members of the King's community volunteering.
This week we're celebrating Volunteers' Week (1-7 June) by thanking the many members of the King's community who give their time to make a difference. We also want to inspire all members of the King's community to volunteer by sharing ideas, resources and impactful examples. Read on to find out more!
Serving our local, national and international communities
Our students, staff and alumni volunteer throughout the year but in March we see a tremendous boost of energy around King's Global Day of Service, with the King's community coming together across the world through volunteering. King's Global Day of Service is on 25th March (to celebrate the day King's was founded) but any volunteering activities that take place in March contribute to our volunteering hours and demonstrate the positive impact that the King's community has in the world.
This year looked a little different than usual but the passion and commitment of the King's community was stronger than ever. During March 2021, 544 volunteers from across 53 different countries spent 2,323 hours volunteering, which equates to an estimated £20,000 in financial contributions (based on UK Living Wage). From distributing food care packages in Pakistan, to plogging in Indonesia to volunteering at COVID-19 vaccination centres in London, the Service ethos was spread around the world this March.
If you are inspired to give your time to make a difference, read on to discover the many benefits of volunteering and ways that you can get involved.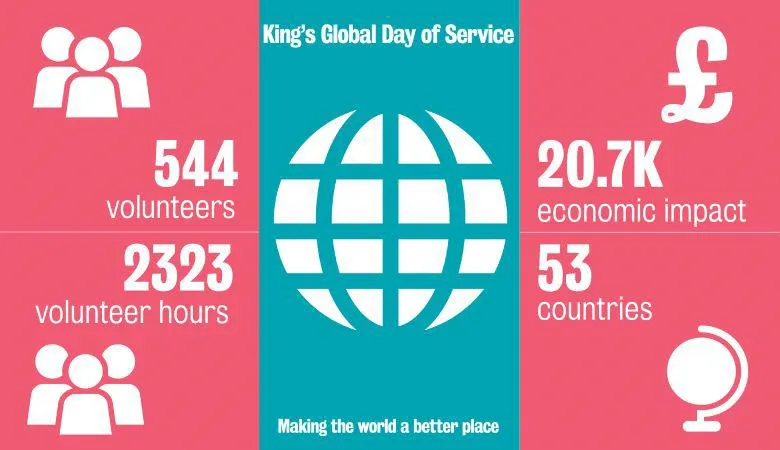 The social impact of King's Global Day of Service 2021
The benefits of volunteering
Volunteering is a great way to make a positive difference in the world. From supporting a charity by becoming a trustee to mentoring a young person, there are numerous ways that you can give back and meet the needs of King's diverse communities.
Volunteering also has numerous personal benefits, including:
Improving wellbeing and reducing isolation
Enhancing your personal and professional development
Providing a sense of purpose
As well as volunteering in your own time, everyone employed by King's can spend up to three days per year (pro-rated) doing voluntary work for an external cause such as a charitable organisation, or within your community using Service Time.
Get inspired!
Do you want to volunteer but need some ideas? Take a look at the King's Volunteering webpage to discover a range of volunteering opportunities or download the Volunteering Inspiration Pack for some helpful tips and tricks on how you can support your community and your own wellbeing.
You can also sign up for one of the exciting volunteering events taking place for Volunteers' Week.
Thursday 3 June 2021, 11:00 – 12:00
Friday 4 June 2021, 13:00 – 14:00
This Volunteers' Week, find out how you can make a positive difference in the world through volunteering. By joining one of these workshops you will discover more about Service at King's, ways to volunteer, and hear from a current King's changemaker who is volunteering in their community. There will also be a chance to brainstorm volunteering ideas with participants.
Thursday 3 June 2021, 13:00 – 14:00
King's Global Health Partnerships recruits hundreds of NHS volunteers to support health professionals in Somaliland, Sierra Leone, the Democratic Republic of the Congo and Zambia. But did you know King's academics and professional services staff can also volunteer with us to support our higher education and health systems, strengthening work in these countries? This Volunteers' Week find out more about our work and how you can get involved.
Wednesday 2 June 2021, 11:00 –12:00
Sign up for this event to hear more about opportunities to get involved in sustainability projects at King's, including the targets and goals King's is working towards to be more sustainable (such as being net-zero carbon by 2025). This will also be a great opportunity to ask the King's Sustainability Team questions and meet other people interested in sustainability.
Monday 7 June 2021, 13:00-14:00
Celebrate the end of Volunteers' Week with an inspiring workshop by student group King's 4 Change and the Fair Energy Campaign. Want to save money and cut your carbon footprint? Don't know your renewables from your REGOs? Join this event to demystify energy providers, learn about the intersection of climate and social justice and get clued up on community organising.
And students (and new home movers!) - this is an essential event to equip you with key information if you're moving into new properties this year!
Have your say
We are building a new and exciting volunteering service at King's for students and staff, building on our commitment to serve society and make a positive social impact. To do this we need to find out what works for you. Help us shape the future of volunteering at King's by completing this short survey in just three minutes! By completing the survey you will also be entered into a prize draw to win one of two £50 book vouchers.
Complete the Volunteering at King's - Staff Survey
Working in partnership
We want to make it easier for more of the King's community to work in partnership with our local community. To achieve this, we know how important it is to establish a service that is mutually beneficial and are committed to working with our community partners to better understand how King's can support and enhance the impact of your work.
To better understand the needs of our community and how our new volunteering service can support your work, our volunteering team would love to hear from existing community partners on what you think should be considered when designing a new service.
If you are happy to share your thoughts, and would like to be involved in the development of our new volunteering service, please contact Naureen Abubacker (Volunteering Partnerships Manager) to organise a conversation.
Find out more
Remember that the main priority when volunteering during the COVID-19 pandemic should be to keep yourself and others safe. Before volunteering you should carefully read the government guidelines for wherever you are, and the information provided by the charity or community organisation you are volunteering with.