24 May 2023
Centre of European Law hosts EU Ambassador to the UK for King's students
The EU Ambassador to the UK Pedro Serrano, delivered the guest lecture entitled 'The EU and the world' on 16 March 2023, where he outlined the EU's relationship to the rest of the World and their efforts and journey in relation to the conflict in Ukraine.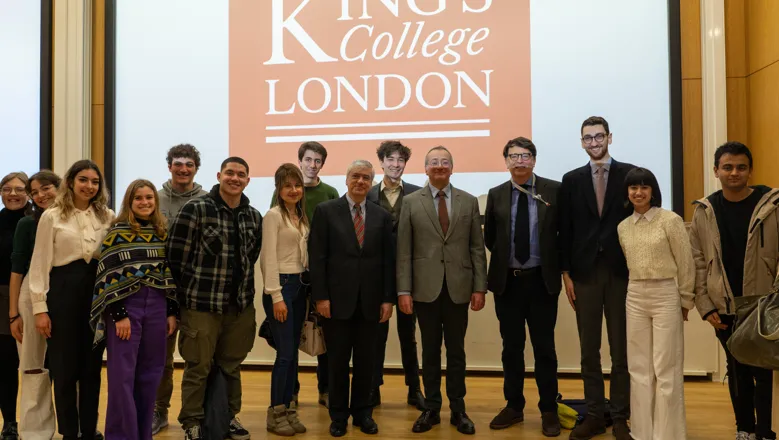 The EU Ambassador to the UK, Pedro Serrano
Ambassador Serrano spoke to first year undergraduate law students at The Dickson Poon School of Law where he reflected upon a broad range of strategic and imminent priorities for the EU. He spoke about the EU's efforts in relation to the conflict in Ukraine, touching upon their attempts at prevention and the subsequent response from the EU and international community, emphasizing the challenges faced and threats to international security.
Amongst other topics for discussion were, the relationship between the EU and the UK post-Brexit, forging new global relationships with a focus on Africa, its relationship to China, completing the process of unification through accession for new member states and navigating Northern Ireland's hybrid situation in relation to the single market.
Ambassador Serrano remarked feeling 'fortunate' to currently be in post as the ambassador to the UK. In the aftermath of Brexit, Ambassador Serrano highlighted that now is the time for the UK to capitalise upon building new relationships, highlighting new treaties such as the Trade Cooperation Agreement and the Withdrawal Act. He remarked that these treaties are springboards to inhabit and look forward to clear legal and economic spaces to build upon international agreement and cooperation. 
When discussing the relationship between the EU and the UK, Ambassador Serrano highlighted shared common values such as promoting democracy and human rights, securing economic development and respective efforts in preventing the conflict in Ukraine. He praised the UK for being amongst the most vocal international critics in relation to the conflict. 
Ambassador Serrano also remarked that after Brexit, the relationship between the UK and the EU has been 'rediscovered' with shared commitments to upholding peace in Ukraine and maintaining security not only within the EU, but also internationally.
After the Ambassador's lecture, students had the opportunity to ask questions. He answered questions in relation to the EU response to international conflicts in the Middle East, the theoretical possibility of whether the EU could have a seat at the UN security council and the financial robustness of the EU post-Covid, amongst others.
Professor Andrea Biondini, Director of the Centre of European Law, moderated the guest lecture. 
In this story