25 July 2018
Chemistry student wins first Wellington medal
The inaugural Wellington Medal has been awarded to Tabasom Haghighi, a final-year student in the Department of Chemistry.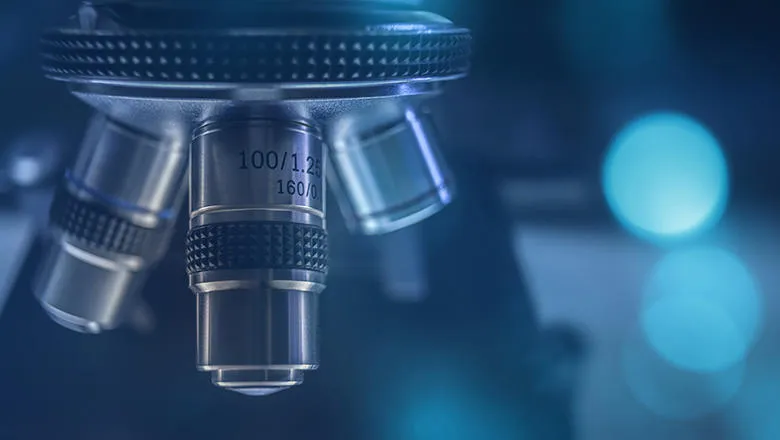 Microscope
The medal was proposed by the Duke of Wellington and is awarded to an outstanding student in the year of their graduation, recognised not only for their academic ability and a range of other achievements during their time at university, but someone who has also demonstrated huge potential for the future.
Tabasom received the medal during the Southwark graduation ceremony earlier in July. She was nominated for 'excellence academically throughout her course, demonstrating particular promise as a research scientist, while leading in Chemistry student affairs through membership of our student Chemistry Society, that does much to integrate new students into the social life of King's while providing mentorship by students in their senior years of students in their entry year.'
Tabasom studied MSci Chemistry with Biomedicine and carried out her final year project in the Department of Craniofacial Development & Stem Cell Biology at Guy's hospital in the field of tissue engineering and regenerative medicine. Interested in chemistry from a young age but never considering it in a biomedical context, Tabasom's degree enabled her to not only learn about the core chemistry concepts but also presented the opportunity to use this knowledge in a wider biological and medical context.  
She explained: 'Currently, we know a lot about chemistry and biology separately, but there is not much known about the interface of the two subjects. This inspired me to learn more about the area and try to connect the two fields together. I was able put this knowledge into practice in my final year project, where I used my chemistry expertise to design a 3D scaffold biomaterial for regeneration of cartilage in the temporomandibular joint. My ultimate research goal now, is to be able to introduce advanced chemistry approaches to the field of tissue engineering, initiate a new chemistry focused branch of regenerative medicine and become a leader in the forefront of this ground-breaking area.' 
This is not her only research during her studies as she has engaged in several research projects, including authoring a paper published in Angewandte Chemie.  
She has also been heavily involved with the Chemistry Society, holding several positions during her time at King's. 
Tabasom told us: ''Nothing ever becomes real till it is experienced.' this is from John Keats and I found it in a fortune cookie that I was given on my very first day at King's and since then I kept the quote and have always reflected back on it. If you have a dream, never hold back! work hard and believe in yourself and it will soon become a reality.' 
She also wished to acknowledge those who had helped her during her degree: 'Finally, I would like to thank all my lecturers, supervisors and tutors who have selflessly supported me throughout my journey at King's. I would like to recognise one person in particular who's constant support and guidance has not only enabled me to achieve my goals but also all the other students at the department of chemistry, Professor Roger Morris. Thank you for all you do, and have done for all of us. I would also like to thank my parents for their unconditional support and love through every step of my journey.' 
She will be continuing with her studies at Imperial College London while pursuing a PhD in bioengineering and materials science.