08 January 2021
Chiamaka Nwosu
Chiamaka Nwosu is a current PhD student at King's Business School.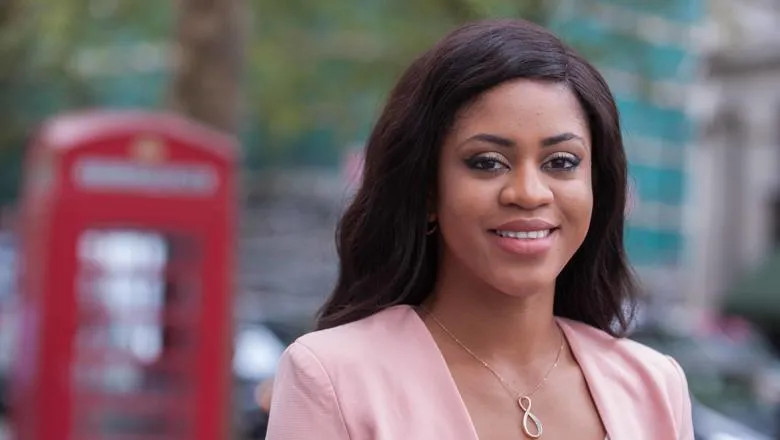 Chiamaka Nwosu is a current PhD student at King's Business School.
Tell us a little bit about your PhD research topic. Who is/was your supervisory team?
My supervisors are Mary O'Mahony and Pierre Louis Vezina. My dissertation is on the quality of education in the UK, specifically looking at how the development of cognitive skills (particular numeracy and literacy) has changed over time by comparing different cohorts.
Another strand of my research looks at the effect of study abroad on academic achievement, and the last piece of research is on the ethnicity attainment gap, and the effect of contextual admission offers on attainment. The Office of National Statistics (ONS) through its partnership with the Economics and Statistics Centre of Excellence (ESCoE) also funds my research.
What are your research interests and how did/have they evolve?
Broadly speaking, my research interest is higher education. I originally wanted to study the internationalization of higher education, but it has now evolved into the quality of education provision and inequalities in the access to education.
What motivated you to do a PhD and what were you doing before? 
I studied Economics at the undergraduate and masters level, in Nigeria and the United States respectively. Before the PhD, I was working as a consultant at the Migration Policy Institute in Washington DC before relocating to Italy to take up a role as a quantitative analyst in the Economics and Statistics Division of the Food and Agriculture Organization of the United Nations (FAO) for a few years. While at the UN, I was exposed to several projects on education and realized I wanted to explore this research area a little more in depth, so I applied for the PhD.
What have you most enjoyed about your PhD?
I have really enjoyed studying in London, meeting and working with like-minded researchers, having the opportunity to teach the subjects I love, as well as being able to present my research at conferences and seminars in several countries
What were some of the challenges of PhD research and how did you overcome them?
As with any quantitative research study, the major challenge I've faced is limited access to data. I've sometimes had to source new data when my first choice of data was unavailable or tweak my methodology to account for these changes.
Transitioning from student to researcher was not really difficult for me mostly because I had over five years of work experience before starting the PhD. With a lot of my projects at work, I was able to conduct my own research from start to finish, which helped me learn the art of working independently.
Why did you choose King's Business School?
When I was looking for a PhD program, I spent a lot of time researching the work of top researchers in my chosen field and found a good match with the academics at the King's Business School. The funding opportunity ESCoE offered me also aligned perfectly with my research interests.
What do you like most about studying London? Has it provided you with more opportunities?
Studying in London has been amazing because it gives you the opportunity to build a really strong network. There are always seminars and events going on and plenty of chances to present your research and receive valuable feedback.
What are your career aspirations? How has your time at King's Business School influenced your thinking?
I've always been interested in the field of international development but have grown to love academia through my experience as a PhD researcher. I would ideally want to combine a career in academia with work in the international development space.
How do you think your experience at King's Business School will shape your career?
While at King's, I've had the opportunity to teach some interesting subjects through my role as a teaching assistant. I've also been able to collaborate on several research projects as part of my PhD. This valuable experience would shape my career by helping me define what areas of economics I find fascinating and would like to explore further, as well as what areas I would rule out now that I've had more knowledge.
What advice would you give to those looking to study for a PhD in your subject area?
My advice to anyone thinking about a PhD in Economics would be to decide on a research area beforehand because this will give you enough time to think about a feasible methodology and potential data sources which would make your experience as seamless as possible. I would also add that some work experience in your field of interest would add a lot of value by strengthening your research skills.