10 May 2018
Chief Medical Officer warns of global health challenge during Commemoration Oration
England's Chief Medical Officer, Professor Dame Sally Davies, argued that antimicrobial resistance (AMR), is the biggest global health challenge we face today, when she delivered the prestigious Commemoration Oration on Wednesday 9 May.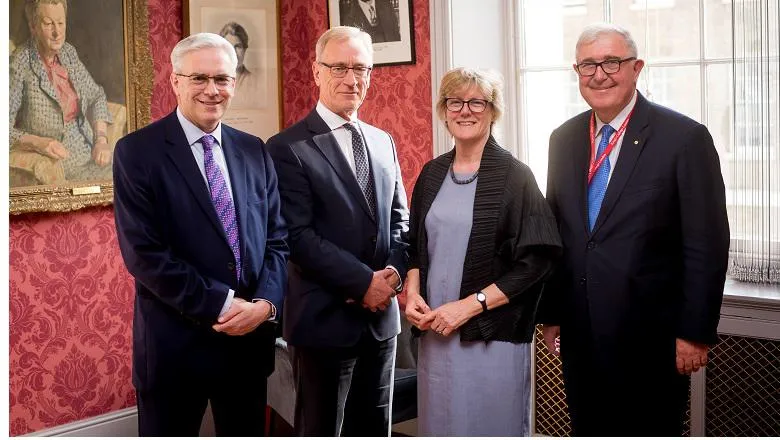 Dame Sally
Dame Sally followed in the footsteps of Prime Ministers, including Clement Atlee, Harold Wilson and Tony Blair, The Nobel Prize winner and King's alumnus Archbishop Desmond Tutu and most recently, King's President & Principal, Professor Edward Byrne, when she addressed King's staff and students in the Great Hall.
During her speech Dame Sally called for action to be taken now to avoid a world where common infections and minor injuries can once again kill, due to their resistance to the drugs, including antibiotics that are designed to destroy them.
The scale of the problem is well documented, with a 2016 independent review of AMR conducted by Lord O'Neil, arguing that the real implications of spreading drug resistance will be felt the world over, with developing countries and large emerging nations bearing the brunt of this problem.
Drug resistant infections are already on the rise with numbers suggesting that up to 50,000 lives are lost each year to antibiotic-resistant infections in Europe and the US alone. Globally, at least 700,000 die each year of drug resistance in illnesses such as bacterial infections, malaria, HIV/AIDS or tuberculosis.
Dame Sally Davies said: 'Drug resistant infections are the defining medical challenge of our age. Political recognition and commitments have put this onto the global agenda but our focus now must be to turn these commitments into real, tangible actions on the ground.
'There is now a huge challenge for the pharmaceutical, research and medical sectors ahead. We must find ways to develop new antibiotics and alternatives as well as preserve the ones we have now – otherwise we risk returning to the days where simple infections can kill.'
Dame Sally has previously argued that without better regulation of the current stock of antibiotics, and the development of new ones, the situation could spiral out of control.
The Commemoration Oration celebrates King's as a place of learning. The first Commemoration Orator was writer and poet GK Chesterton and it was an annual occasion until the 1980s.
The event was revived to mark for King's 175th anniversary in 2004 when The Most Reverend Desmond Tutu, Archbishop Emeritus of Cape Town, Nobel peace laureate and King's alumnus.