03 November 2017
Children Experiencing Dental Anxiety: Collaboration On Research and Education
CEDACORE: Children Experiencing Dental Anxiety: Collaboration On Research and Education.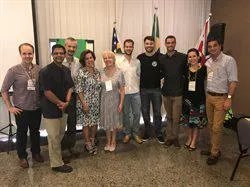 Collaboration of leading researchers from UK and Brazil to help anxious children needing dental treatment.
Bringing together leading academics from King's College London Dental Institute (UK) and Universidade Federal de Goiás (Brazil), an international research collaboration for helping anxious children who need dental treatment was held from 14 – 18 October, 2017. Focusing on sedation allied with non-pharmacological techniques, minimally invasive dentistry and cognitive behavioural therapy, it was a unique opportunity for researchers from both sides of the world to join forces and explore the best ways to help anxious children who have tooth decay.
With its duel focus of training the teachers and researchers, the workshop has led to immediate and long-term benefits in development of child anxiety management in both the UK and Brazil. Coordinated by Professor Marie Therese Hosey from King's College London (UK) and Professor Luciane Costa from Universidade Federal de Goiás (Brazil), the workshop bought together a group of bright and enthusiastic 39 researchers in the fields of Paediatric Dentistry, Restorative Dentistry and Psychology.  Leading researchers Professors Avijit Banerjee, Tim Newton and Marcello Bönecker and Paulo Sucasas were joined by Early Career Researchers from the UK and Brazil.
The workshop was funded by the Fundo Newton/Researcher Links scheme, the British Council, and the Fundação de Amparo à Pesquisa do Estado de Goiás (FAPEG) and the Coordenação de Aperfeiçoamento de Pessoal de Nível Superior (Capes).