24 March 2021
Circle U: An inter-university alliance for Europe
King's joins alliance of institutions from across Europe to address global challenges.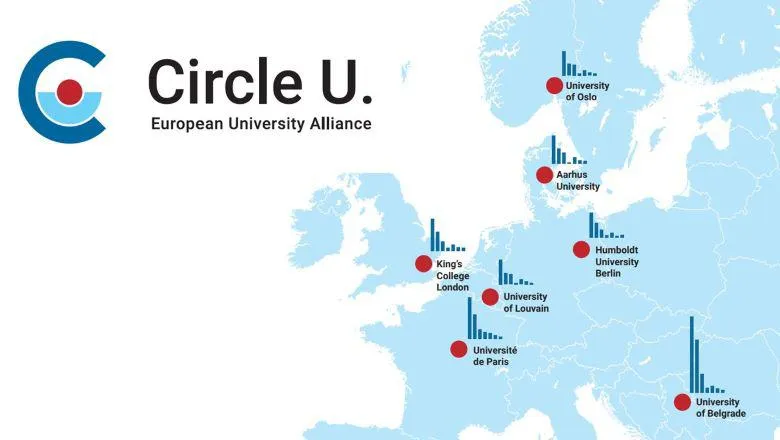 The Circle-U Alliance aims to develop an inclusive, research-intensive and interdisciplinary alliance that brings together seven partner institutions from across Europe. The alliance includes: Aarhus University (Denmark); Humboldt University (Germany); King's College London (UK), UCLouvain (Belgium); University of Oslo (Norway); University of Belgrade (Serbia); the University of Paris (France).
Funded by the European Commission, and formally launched in November 2020, Circle U brings these universities together in order to jointly develop new initiatives for pedagogical innovation and cutting-edge research which addresses global challenges, whilst providing a multi-cultural and multi-lingual student experience. The programme will initially focus on student-led sustainable innovation, democracy, climate and global health. Grounded in a dedication to ethical principles and a sustainable society, the alliance aims to pave the way for a new model for universities of the future.
Dr Rachel Kerr from the Faculty of Social Science & Public Policy will lead King's in developing a programme of 35 Academic Chairs that will ensure strong and sustainable connections across the seven universities, between research and teaching, between students and staff, and between universities and society. An Academic Chair Academy will tie several activities together and be an enabler for cooperation and dissemination across our universities.
Applications to become one of King's Academic Chairs for Circle U will open soon. To register your interest in applying and for further information please contact globalengagement@kcl.ac.uk
Keep up to date with future Circle-U activities via the alliance's newsletter. Please email globalengagement@kcl.ac.uk to subscribe.