28 July 2023
Class of 2023 reflect on fondest memories at King's
In a look back at this month's graduation ceremonies, we asked some of this year's graduates about their studies, their fondest memories of King's and what they plan for the future.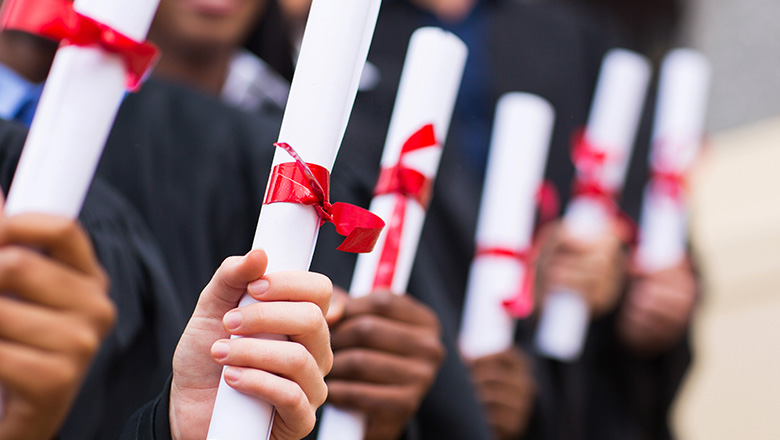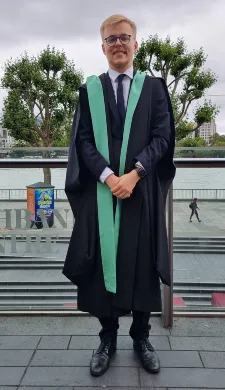 Guillaume Proffit, BA History and International Relations
Guillaume said: 
"I studied History and International Relations starting in 2020, and spent a semester abroad at the George Washington University in Washington DC; I specialized in International History and Intelligence.
"The best memories from my time at King's are those shared with the people I met through my course. I had the chance to be surrounded by very interesting classmates with whom I built great friendships, which will stick with me long after King's. I also had the chance to meet great academics, knowledgeable in their subject area, but also keen to engage with student's perspectives and teach us both their subject and skills. I am truly thankful for Matias, Richard, Gabriel, and Sofia.
"I hope to continue my education in History and hopefully become an academic, because I am convinced that teaching in general -and particularly the teaching of History- is something that is greatly beneficial to society. I will also keep a soft spot for the policy world from the International Relations part of my degree, and hope to one day play a role in it, possibly as a civil servant."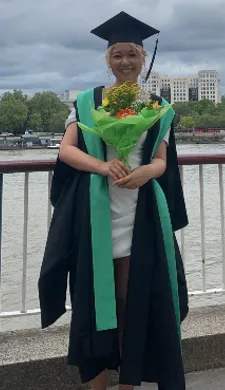 Kanako Fujita, BA in Film Studies
Kanako and a fellow student created a short film which was selected for screening at the prestigious Yubari Fantastic International Film Festival in Japan. 
Kanako said: "The last three years have been undeniably tough with the pandemic and strikes, yet the most memorable experience at King's is certainly the deepening of my comprehension of the cinematic worlds I love. This was achievable through encountering peers with shared passions and inspiring professors.
"With my degree, I aspire to become a film producer who can bridge Japan and the rest of the world, leveraging the knowledge I've gained during my study."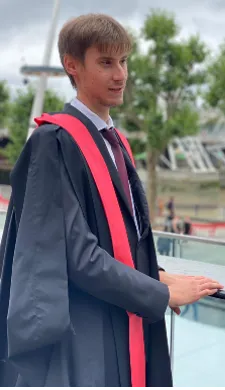 Radoslav Petkov, BA in Chemistry with Biomedicine and a year's professional placement
He said: "My greatest memory at King's is when I got to be the student representative for my cohort. Speaking and meeting with students to discuss their concerns allowed me to get to know my classmates better.
"I hope to go to Switzerland to continue to work in the chemistry field. I am also planning to do a Master's next year in Switzerland either in Data Science or Computational Science and Engineering."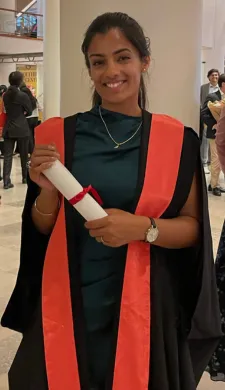 Milan Singh, MSci degree in Chemistry with Biomedicine
Milan received the prestigious JELF Medal, awarded to the most distinguished student of the college excelling in both academics and extracurricular activities. She said:
"When I think back to my university days, some of the best memories come rushing back. One that really stands out is when the exams were finally over last year. After that last exam, few dozens of us left Excel together. I looked around at my friends and classmates, and we were all so happy. It may sound cheesy, but in that moment, I realised that all the hard work had finally paid off. Despite the challenging coursework, countless hours of studying, early morning lectures, and even dealing with a whole pandemic, we were all there, ready to start the next chapter.
"King's is where I made lifelong friends, built a professional network, and called London my home for four amazing years. It's tough to pick just one favourite memory, but when I look back at my personal growth, I know this university shaped who I am today and provided me with the tools to overcome any obstacles I might encounter on my way.
"If I could go back in time, I would definitely choose King's all over again! I can't help but feel a bit jealous of the incoming first-year students who will start their degrees next year. They are about to experience all the ups and downs of university life, and it is such an exciting time. But I am also filled with hope for the future. With my chemistry degree in hand, I'm eagerly looking forward to starting my STEM doctoral studies and taking on new challenges."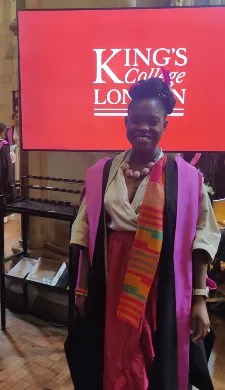 Dr Sefa Ahiaku, MClinDent Fixed and Removable Prosthodontics
She said: "My greatest memory is sitting at a restaurant on the waterfront with tutors and fellow students and marvelling about how incredible they all were, and how I had a brand new professional network for life. That and scribbling essays on whiteboards in the library with my friend Eilidh the night before exams.
"My degree has already enabled me to secure a job in a private dental practice and to provide the kind of care to my patients that I dreamed about. In the future I hope to go on to do some teaching and mentor young dentists on their way through this career.
"Walking across the stage in Southwark Cathedral with a lion on my shoulder was the best feeling in the world, and so long awaited. I have had to scrap to get this qualification completed, so celebrating with colleagues and faculty felt particularly sweet. I'm really proud of my achievement."
Dr Oladayo Afolabi, RN, PhD in Palliative Care and Research Fellow
Dr Afolabi's research drove integration of palliative care into the primary healthcare system to benefit people with a serious illness and their families in Nigeria. He developed an African-specific framework of palliative care needs and trained healthcare providers to improve their knowledge around management of symptoms. 
He said: "My greatest memory at King's will be the incredible people I have met- the lecturers, the students and the support staff alike. King's is a truly international centre of learning with many role models that for represents the immense possibilities ahead of me.
"My degree has prepared me with excellent research and leadership skills set that will help me as an early career academic to contribute to research, teaching, policy and practice."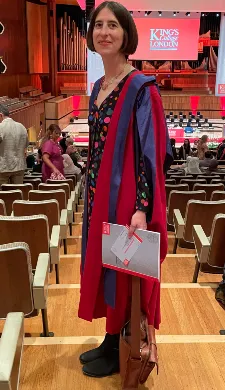 Dr Hannah Walsh, PhD in Nursing
Hannah said: "My best memory is passing my thesis defense (PhD viva) - it took a long time to get to that point and was the culmination of a lot of work. Both my grandmothers were also nurses so I am really proud to have a higher degree in nursing. I'm now working as a research associate at King's."