05 November 2019
Communergy: Decentralising renewable energy production
Aura Rivera Arías, Matías Vergara Herrera and Florian Eblenkamp
AURA RIVERA ARÍAS, MATÍAS VERGARA HERRERA AND FLORIAN EBLENKAMP: Give communities the power to produce their own renewable energies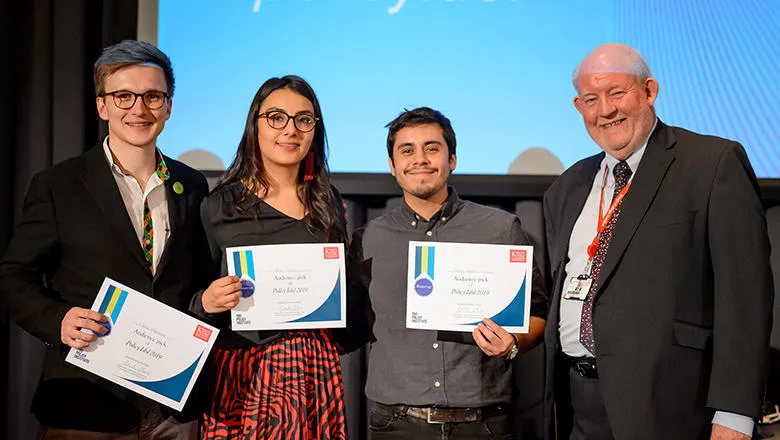 This piece is part of a blog series from the student finalists of Policy Idol 2019. Through the series, we're sharing students' policy ideas for changing the world, which they pitched at the competition earlier this year. 
Find out more about Policy Idol
Climate Change is arguably one of the greatest challenges of our times. This has been recognised by policy makers and citizens alike, resulting in an internationally agreed goal of limiting global warming to 1.5 degrees by 2100, as set out in the Paris Agreement. But achieving this will require drastic measures. The United Nations Independent Panel on Climate Change's report from 2018 states that the world economy must be decarbonised by 2050 to achieve this goal. This ambitious task seems even more unfeasible, considering that global CO2 Emissions were the highest ever recorded in 2018, despite years of technological advances and political promises to facilitate transition to a carbon neutral world.
Individuals are aware of the problems caused by climate change. Surveys have shown that concern about the existence, causes and consequences of global warming is equally distributed amongst all age groups in the UK. Despite this, action taken by individuals is not going to produce a meaningful contribution to the fight on climate change in enough time. A more structured approach is required to facilitate decarbonisation.
During the last decade, 25 per cent of global greenhouse gas emissions came from electricity and heat production. The energy sector is therefore crucial in the fight against climate change and provides the starting point for the proposed policy. To find a solution we need to understand energy production models. Energy systems are separated into sub-sectors, such as distribution and generation, with the latter being generally highly centralised and mainly derived from fossil fuels.
To change the current energy production model in one go would not be economically or technically feasible. Rather a gradual move towards renewable smaller sub-systems would be a more manageable way of making the transition to decarbonised energy production a reality. Our policy would enable this kind of transition by promoting community-based energy generation, which we would call Communergy. It would enable increased energy generation from renewable sources whilst also promoting local engagement with the environment and cutting down fossil fuel consumption.
Since renewable energy production usually requires high levels of up-front capital expenditure, communities would need to have access to low-cost capital. One way to provide this is through the green bond market. Green bonds are fixed income securities issued to finance investments with environmental or climate-related benefits. In recent years, there has been a rapid growth in this area and municipal bonds have become a key part.
In order to access this market, communities would need help developing their own energy projects, which is why Communergy would provide expertise from universities and energy agencies on technical issues to guarantee that the proposals put forward by communities were economically, socially and environmentally feasible. The projects with good potential would be signed off by experts, giving communities the green light to go ahead and seek financial resources. The government would provide financial back-up for the schemes. Communergy is a coordinated state effort to make sure that those communities who want – and can – produce their own renewable energy, have the necessary technical and financial aid to contribute to the urgent fight against climate change.
Florian Eblenkamp, Aura Rivera and Matias Vergara Herrera are masters students in Public Policy. 
Delivering the UN Sustainable Development Goals
King's College London has a long and proud history of serving the needs and aspirations of society. We are committed to the UN Sustainable Development Goals (SDGs) as a university, and we use them as a framework for reporting on our social impact. The SDGs are a set of 17 goals approved by the 193 member states of the United Nations (UN) which aim to transform the world by 2030. This research supports SDGs 7, 13 and 17.