09 June 2020
Communicating cultural research creatively
An interview with King's alumni Lida Koutromanou who discusses her art publication ANOMO, which she created as an alternative approach to a traditional written MA dissertation.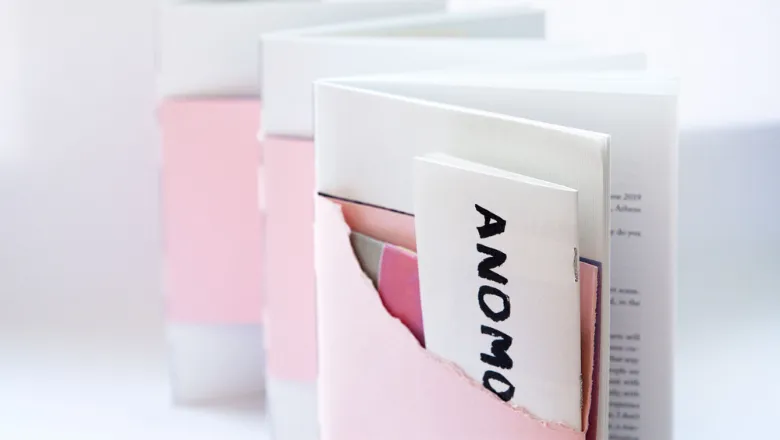 ANOMO, an arts-based research project by Lida Koutromanou
Tell us about you!
Hello! I'm Lida and I'm a graduate of the MA Arts & Cultural Management from the Department of Culture, Media and Creative Industries at King's. Whilst studying my bachelor's degree in graphic design in Athens and Helsinki, I came to London for an internship and got involved with organising and curating exhibitions. After some time working in Greece, I decided to return to London and continue my studies. The MA at King's was the only one I applied for; fortunately, here we are now.
What is an Arts-Based Research Project (ABRP)?
Lots of work, for sure! In an Arts-Based Research Project, creating aesthetic forms is used as a research method and the creative output is the result of the research. Essentially, it is research through artistic practice.
Could you tell us a bit about the project you created?
The title of my research was 'ANOMO: An Arts-Based Research Project examining the volatile cultural climate in contemporary Athens, Greece'. Anomo (άνομο) in Greek means lawless, characterised by a lack of order.
My project explored the intersection between cultural regeneration and the economic and social upheaval in contemporary Athens through a series of conversations with visual artists and curators. Realised in the form of an art publication, it aimed to capture the liminal phase of a cultural landscape that seems relatively random, raw and "lawless".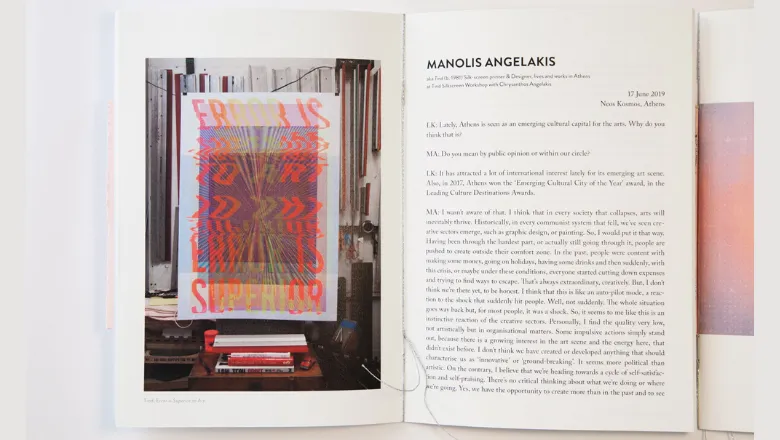 What drew you to investigate the state of culture and the economy in contemporary Athens?
It started as an empirical observation and a general feeling about the city. Since 2015, every time I would go back to Athens it somehow felt more creative and vibrant than when I had left. I explored some crazy ideas for an ABRP but this project came together quite naturally.
Athens has been gaining cultural momentum, especially for its contemporary art scene, due to an influx of international artists and curators and a rise in artist-led initiatives and independent project spaces. While I was working on my project, Art Basel hosted a panel discussing whether Athens would become the next art capital of Europe. I was genuinely curious to find out how people in the arts experience this growing interest.
To me, it all seemed like a very contradictory phenomenon, and still does in some ways, considering that Greece has become synonymous with the word 'crisis' in recent years. Finding a way to create a project that did not perpetuate stereotypes such as 'Athens is the new Berlin' was essential for me, especially when researching the capacity of crisis to be a furtive breeding ground for the arts. Speaking to as many people as possible who are engaged in the arts was key.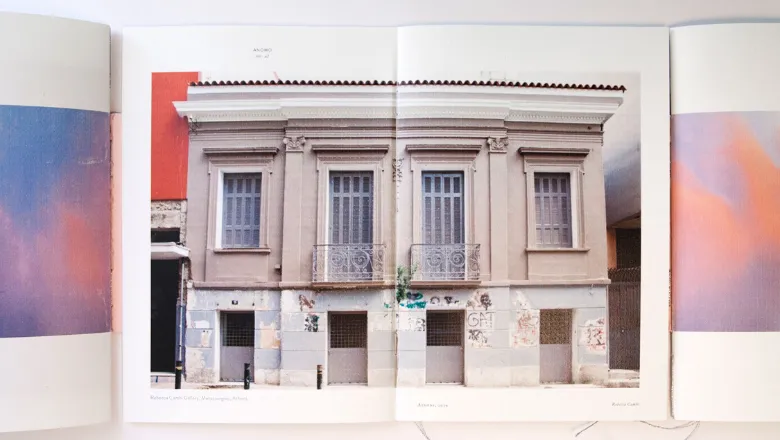 Why did you choose to frame your research in an art publication rather than writing a traditional dissertation paper?
The more I read about the ABR methodology, the more it resonated with me and what I wanted to research and achieve. Creating something tangible made sense to me. I believed that the open-ended nature of an art publication better suited the fluid character of the topic. The publication included the conversations I had with the artists and curators, which also inspired conceptual elements of the creative outcome such as the format, papers, colours etc. It allowed me to approach the subject from multiple perspectives and, unlike traditional methodologies, communicate the research through its inherent expressive visual and tactile qualities.
What was your biggest takeaway from doing the ABRP?
I absolutely loved everything about it; the process, the conversations, the outcome, and everyone involved, including my superstar supervisor, Dr Kate McMillan, who has been so supportive. I could go on forever. All in all, the project has been challenging but it's an incredibly rewarding feeling that what you're doing makes sense.
Where can people find out more about your work?
They can check out ANOMO and my other projects on my website or Instagram.
In this story