29 June 2016
Comparative Literature Lecturer celebrates Teaching Excellence Award 2016
Comparative Literature Lecturer Dr Sebastian Matzner celebrates Teaching Excellence Award 2016.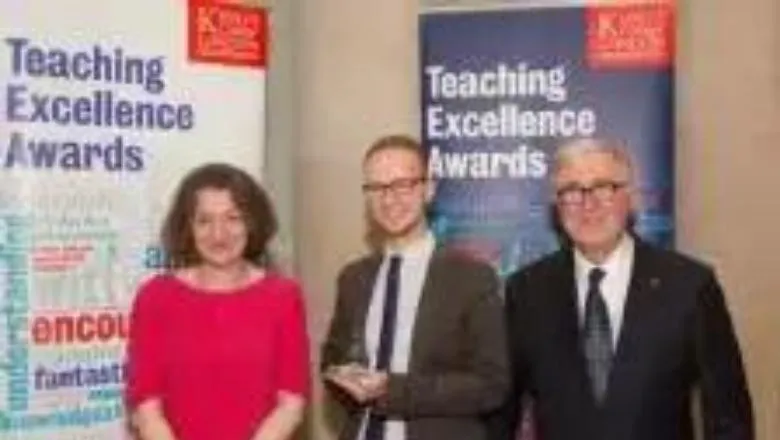 Congratulations to the Department of Comparative Literature's Dr Sebastian Matzner, Lecturer in Comparative Literature, who received a Teaching Excellence Award 2016! He celebrated at the awards ceremony with Comparative Literature with Film Studies student Aida Youssef and Comparative Literature colleagues Dr Miranda Stanyon and Dr Tom Langley. Presenting the awards were Karen O'Brien (Vice-Principal, Education) and Ed Byrne (Principal). Competition this year was tight, with over 308 nominations in the Faculty of Arts and Humanities.
Here's what his students said: 
"The most engaging lecturer and seminar leader I have had this year – no worries of falling asleep! Every lecture or seminar is different, engaging, useful. He is passionate about what he teaches, and we as students feed immensely off that. Very approachable, enthusiastic and always has a focus and structure. I hope to get him as a lecturer again next year!"
"He is really good at explaining complex theories, gives fun and intriguing lessons, is very approachable, ready to help, and treats us as 'scholars' rather than pupils."
"Sebastian is a brilliant lecturer, an excellent tutor, and generally an extremely inspiring person. He effectively explains difficult texts and concepts and he is also patient and has a good sense of humour, which is important for the students to feel comfortable and free."
"Words cannot do justice to Dr Sebastian Matzner's excellent teaching. He is a superb lecturer and seminar leader. His classes are always lively and saying that they are well prepared is an understatement. All notions are explained in such a way that leaves us not only understanding the whole, but eager to learn more. I am grateful to him for all he has taught me, but I am especially grateful to him for the irreplaceable support he has given me as my personal tutor. Thank you!"
The College introduced the Teaching Excellence Awards in 2002 to provide students with an opportunity to recognise teaching staff from each School. A full list of the 2016 winners can be read here.
(Aug 2022 - The Comparative Literature is now the Department of Languages, Literatures and Cultures).