02 November 2021
Conference to discuss political crises in Myanmar and Thailand
Public protests in Myanmar and Thailand have again drawn attention to the role of the military in limiting democracy and suppressing human rights. A new conference, organised by student Sarina Yamahata with support from the Student Opportunity Fund, looks to find out more.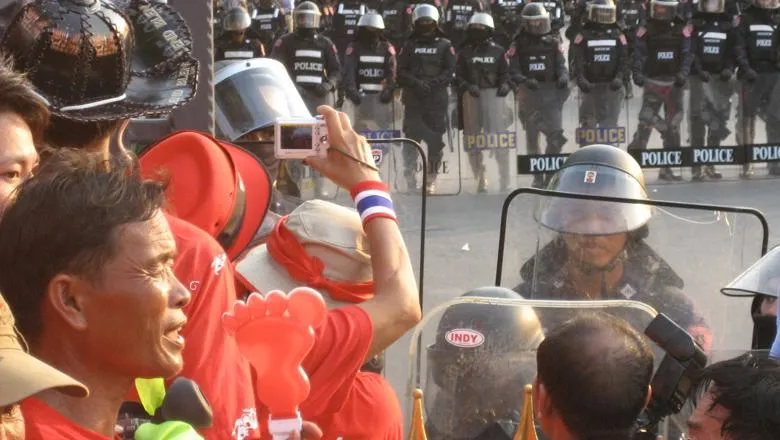 Protestors in Thailand, July 2021.
Between 3 and 5 November, a 3-day virtual conference featuring pro-democracy activists, academics and journalists will explore a range of perspectives on the regimes and protest movements in Myanmar, Thailand and Hong Kong.
The conference, Public International Law, Human Rights, and Development: Myanmar and Thailand, is the brainchild of final year law student Sarina Yamahata. It aims to "demystify" the stories of those countries and elevate the voices of campaigners on the frontline.
Sarina Yamahata: "Sadly, both Myanmar and Thailand have a long history of military coups and protests are nothing new, but the global news cycle means that discussion of human rights issues in these countries can disappear from view, a problem exacerbated by attempts in both countries to block social media platforms and cut off communication with the outside world. We want to amplify and empower the voices of those in Myanmar and Thailand who are fighting and protesting every day."
The conference will feature speakers including journalist and filmmaker Hathairat Phaholtap; human rights lawyers Aung Htoo and Alice Gardoll; teacher, educator and education policy advocate Hawng Tsai (Ah Sai); postgraduate student Kyi Sin, who is also an elected member of Myanmar's National Party Youth Congress; and Aye Chan Naing of Democratic Voice of Burma, an independent broadcast media group.
Academic experts include David Streckfuss, a Foreign Expert at Thammasat University and Honorary Fellow at the Center for Southeast Asian Studies, University of Wisconsin-Madison; Professor Catherine Renshaw of Western Sydney University; and The Dickson Poon School of Law's own Professor Philippa Webb.
The keynote address will be provided by Hong Kong pro-democracy activist Johnson Yeung Ching Yin.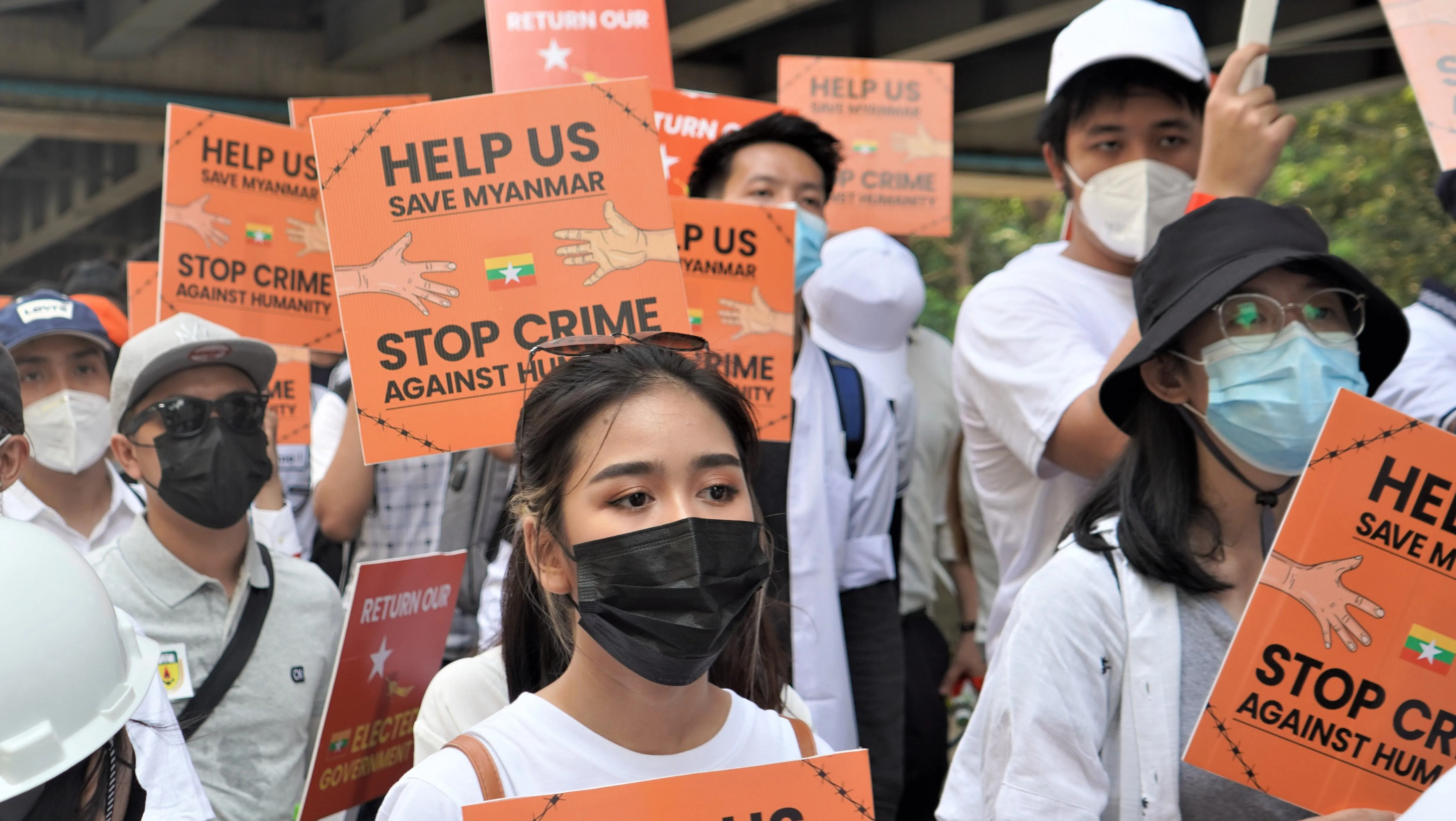 Actress Phone Thiri Kyaw joins the protests in Yangon, Myanmar, May 2021
Sarina: "I've been extremely fortunate in how these amazing speakers have been so willing to take the time to contribute to the conference. They have all been incredibly kind and supportive of this initiative and I couldn't be more grateful."
"I wanted to have speakers from Myanmar and Thailand but also from outside those countries. The aim is to promote discussion and you can't really have a meaningful dialogue unless you engage with a diverse group of people."
The presence of speakers active in the protest movements in Myanmar and Thailand is important. Sarina Yamahata: "I think that when most people think of law, they think of a top-down approach, but when it comes to enacting change that is sustainable, it needs to be a holistic approach that listens to the grassroots movements, the local movements."
Thailand suffered a military coup in 2014. A publicised 'return to democracy', with elections in 2019, was undermined by claims of vote rigging. Student protests emerged in early 2020 after apparent attempts to curb opposition and limit freedom of expression. The protestors called for reform of the country's monarchy. Domestic restrictions due to COVID-19 resulted in a temporary suspension of public protests, but they resumed in July 2021, further fuelled by frustration at the impact of the pandemic on the country. The protestors have issued a series of demands including a new constitution.
Myanmar, formerly Burma, was ruled by a military junta, the Tatmadaw, between 1962 and 2011. Elections in 2010 and 2015 saw a return to a form of civilian government, although the military retained a strong presence. Progress was halted by a military coup on 1 February 2021, sparking renewed protests.
Myanmar has seen significant ethnic conflict over an extended period. A 1982 law established a three-tier approach to citizenship, with the Rohingya, a Muslim minority, subsequently denied Burmese citizenship. UNHCR, the United Nations Refugee Agency, estimates that since August 2017 over 700,000 Rohingya have fled Myanmar.
Sarina's interest in Myanmar is nothing new: "I was born and raised in Japan, but both of my parents are Burmese. Growing up, I always felt disconnected from that part of my background. So I read a lot about Myanmar - its history in terms of its political struggles, current affairs and information on human rights abuses. The more I read, the more I wanted to be engaged in everything that was going on in Myanmar. It's actually why I applied to study law in the first place."
The conference is the first fruit of a new project, Burmawave, founded by Sarina and Yatana Yamahata in the wake of February's military coup in Myanmar.
Sarina Yamahata: "When the military coup happened, it really shocked everyone, because it was like turning back the clock on what little progress Myanmar had seen in the years before."
"Before the coup, we had a passion and an interest in what was going on in Myanmar, but it had never crystallized into a concrete idea or action. The military coup served as a catalyst, I guess, for us to ask, 'What can we do?' It really pushed us to take the initiative."
The first and second days of the conference will hear speakers discuss press freedom and human rights and the role of educational Institutions, CSOs, and individuals. The third narrows the focus to Myanmar, looking at the potential role of international law and humanitarian intervention going forward.
The conference has been made possible by the Student Opportunity Fund, an initiative by King's Careers and Employability team: "A conference on this scale is not something that I would have been able to do on my own. It's really because of King's Student Opportunity Fund and the support that they've given me that I've been able to launch an initiative like this. Every day, more and more people are registering. It's incredible to see the level and extent of engagement not only from within King's community, but also from around the world."
Public International Law, Human Rights, and Development: Myanmar and Thailand is on 3-5 November 2021. You can register on Zoom.
In this story