26 May 2020
#ContinuingToServe in Cornwall
King's Service Centre in Cornwall is supporting local businesses during the pandemic
This week the King's Service Centre in Cornwall celebrates its fifth anniversary. As well as ensuring students and staff can study and work from home during COVID-19, IT staff at King's Service Centre are making a difference to their communities by launching a website to support local businesses in Cornwall. 
Established in 2015, the Centre is home to over 150 staff who provide IT support to King's students, staff and alumni, 24 hours a day, 7 days a week, 365 days a year. It is also home to King's Estates & Facilities Service Desk and other technology teams.
The King's Service Centre has made a significant contribution to the local community since its creation. Staff have used Service Time to contribute to local initiatives, from helping at a charity pantomime to litter picking on the beach.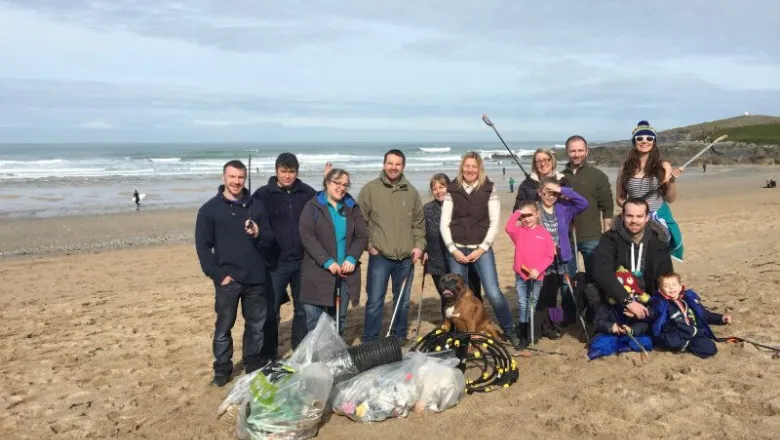 Staff at King's Service Centre used Service Time to take part in a local litter pick.
In addition to ensuring King's students and staff can work remotely during the COVID-19 pandemic, the team at King's Service Centre are also continuing to support their local communities.
Emma-Jane Wood, IT & Business Operations Manager at King's Service Centre, set up a website to bring together businesses in Cornwall that are still able to deliver goods and services.
The website is a directory for Cornwall residents to find local businesses, from grocery deliveries to online cookery lessons. It is a result of partnership with Chamber of Commerce Cornwall, Federation of Small Businesses and Cornwall Council.
Volunteer Cornwall and local parish councils have also been signposting residents to the website.
Emma-Jane recently spoke to the Secret Truro podcast, in association with Volunteer Cornwall, about the initiative.
As King's Service Centre is based in Cornwall, King's continues to develop partnerships in the area to meet the needs of local communities and develop mutually beneficial initiatives.
During this period of uncertainty and change, King's is stepping up efforts to deliver on its promise to make the world a better place by continuing to serve our local, national and international communities.
Visit the #ContinuingToServe webpage to discover the many ways in which King's is making a difference, let us know how you can help or discover existing projects that need support.