05 April 2018
CUSP London student hackathon tackles urban road safety
A student hackathon held in March 2018 at the Centre for Urban Science and Progress London (CUSP London), based in the Faculty of Natural & Mathematical Sciences, brought together around 50 participants from academia, government, and industry to analyse data on road safety in London and explore how accidents could be reduced.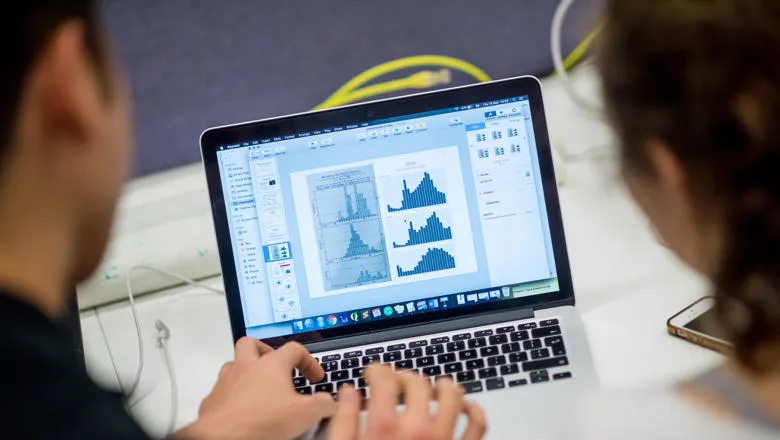 Students working on laptop
CUSP London is a collaboration between King's College London and the University of Warwick, in partnership with New York University, which brings together cross-disciplinary expertise to apply data-driven and computational methods to understanding and addressing city issues, in collaboration with governmental and other industries.
The CUSP London Data Dive 2018 gave teams of students from King's, CUSP in New York, the University of Warwick and University College London the opportunity to use their data science and social science skills to explore the wealth of data available about road safety in London and beyond.
The event set out to answer questions such as: what is the effect of cycle superhighways on the rate and type of accidents, how can we calculate the impact of the increasing London night-time economy on road safety, what are risk factors for people making school runs, which junction types and road features contribute to increased severity of accidents, and does the complexity of a city's road network have an impact on accidents and how does this compare across global cities?
The event was supported by London borough councils, including Westminster, Lambeth, and Haringey, who provided their local experience and expertise to guide students in the questions they were tackling and to help them to understand how to present their results to help affect policy change. Tech companies from across London also supported the Data Dive, using their experience of running hackathon events to advise students as they develop technical solutions to challenging social problems.
Students taking part in the hackathon
A brand new King's MSc Urban Informatics is currently open for applications for a September 2018 start, enabling postgraduate students to work within CUSP London and gain the technical, analytical, and communication skills needed for effective urban data analysis. As demonstrated by the hackathon, the course seeks to inform improvements that can enhance the wellbeing of city residents. The MSc combines the technical and social aspects of urban informatics, with links to both health and social science.