28 June 2019
David Miliband delivers Fulbright Lecture at King's on the "Age of Impunity"
David Miliband delivered the 2019 Fulbright Legacy Lecture at King's College London last week on the "Age of Impunity".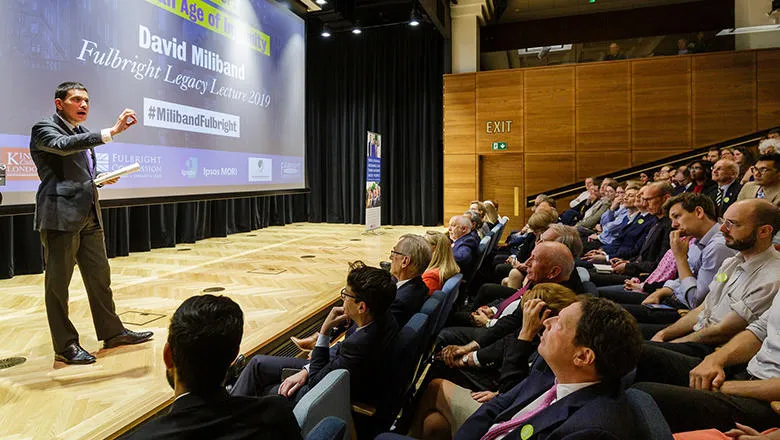 David Miliband delivered his Fulbright Lecture at King's College London
Former Foreign Secretary and current President and Chief Executive of the International Rescue Committee, David Miliband, delivered his 2019 Fulbright Legacy Lecture at King's College London on Thursday 20 June. 
His lecture, "The new arrogance of power: Global politics in the age of impunity", examined one of the major shifts in international relations today, away from checks and balances on the use of power, and towards what he describes as an "Age of Impunity". 
He argued how this phenomenon is born of political changes, with the the rules based international order forged after World War 2 undermined by weakened constraints on the abuse of power:  
"A time when those engaged in conflicts around the world…believe they can get away with anything, including murder, whatever the rules and norms... we are seeing less outrage about it, and less accountability for it." 
In his lecture Miliband drew on new research conducted by the Policy Institute, King's College London, and Ipsos MORI on global attitudes to human rights and international trade covering 24 countries: 
"The United States (22%) is now seen as on a par with Russia (24%) and Saudi Arabia (25%) as countries most likely to use 'their influence for bad.'…it should be shocking that the US should be perceived to have descended to the level of Russia as a global spoiler."  
He also highlighted that around the world a large number of people are looking for commitment to human rights and global engagement and would prioritise this, even when it challenges the sovereignty of states.   
Miliband went on to explain how Brexit, far from enabling Britain to play a greater role in global politics, would diminish Britain's power: 
"The promise of Brexit was to make Britain an independent rule-maker. But in an interdependent world, that is a mirage...Brexit reduces our power in global rule-setting, makes us prey to the trade policies of the world's big powers like the US and China." 
Earlier in the day, David Miliband gave a masterclass to students from the School of Security Studies at King's College, in which he explored some of the concepts touched upon in his speech and responded to questions from the students.   
Read David Miliband's Fulbright Lecture 
Read the research on global attitudes to human rights