27 April 2020
Delivering education during a pandemic
How the Faculty of Dentistry, Oral & Craniofacial Sciences is delivering education during a pandemic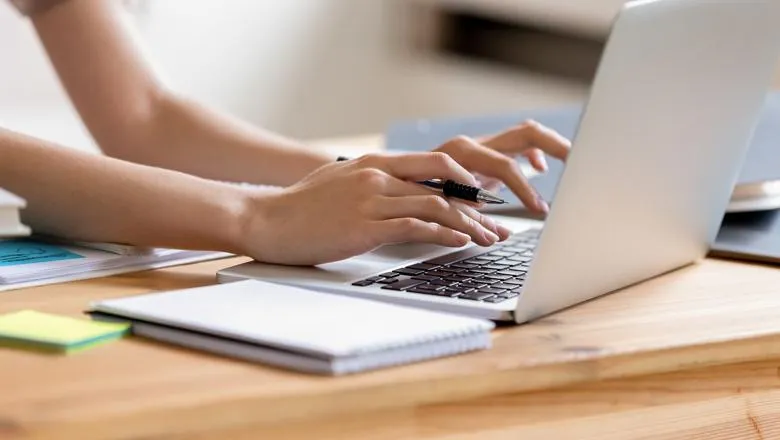 Students and staff homeworking
The start of 2020 saw the global coronavirus pandemic affect the delivery of education to students at King's College London.  The Faculty of Dentistry, Oral & Craniofacial Sciences was presented with a unique challenge of providing clinical based education without access to dental clinics at their partner hospital Trusts, and postgraduate research education without laboratory facilities.
The staff and students at the faculty proved their resilience and adapted to the new ways of working. With the aid of technology, the whole community of clinical teachers, researchers, students, nurses, technical and administrative staff pulled off the delivery of a virtual dental school at unbelievable short notice.
Said Professor Kim Piper, Dean for Education: "Our teachers adapted and upskilled to deliver live internet-based seminars and case-based discussions, as well as recorded lectures from their homes around the country. We have set up forums for discussions and re-thought how to deliver assessments, so that all students can take part wherever they are. And the students have adapted so well and set up their own support networks."
Each of the different education programmes delivered at the faculty adapted in their own unique way, ensuring that students did not miss out on any critical education and could still be successful in their studies, despite operating in a very different way. 
Undergraduate BDS
The programme team, both academics and professional services, worked collaboratively to move all lecture content online as narrated presentations, already recorded content and live events. Where possible, seminars and practical classes with discussions were held on an online platform.  The clinical elements continued virtually through online tutorials, fora and catch-up discussions at the end of the day.
The faculty approach to assessment has been to mitigate the disruption to the students' studies, whilst also maintaining the integrity of the course. Assessment load for students was significantly reduced across all years. Core assessments continued to run albeit in a simplified online format, either through timed or 24 hour 'open book' assessments. Some clinical assessment were turned into an online format: for example, the clinical communication assessment took place in a quiz format with pre-recorded videos. 
Postgraduate Taught Programmes
The faculty made great progress with online teaching for postgraduates on all our programmes. Staff worked hard to adapt our teaching and assessments. In a massive collaborative effort, and with knowledge of our previous blended approaches, the team built in a series of changes to all our programmes.
Said Dr Mark Ide, Associate Dean for Postgraduate Taught Education: "There is a consensus that the new ways for working that we developed will show considerable benefits in the longer term for both students and staff. We are using the online software tool, Microsoft Teams, supplemented by email, as a means of organising regular meetings, seminars, lectures and journals discussion sessions.
"The students have shown considerable resilience and adaptability, and both students and staff have grasped the situation to collaborate to make things work well, and we are in regular contact with each of our postgraduates to ensure that they are managing."
The faculty has also been able to work to continue to deliver theoretical, scientific and non-clinical aspects of the programmes, and beyond this produced virtual clinical sessions, discussions of previous cases, clinical scenarios and complications, as well as fully analysing developments in each field.
They also made efforts to continue to support and work with those overseas students who have repatriated.
"We do anticipate challenges in the months ahead but are already planning for various scenarios in the next academic year, aiming to help existing students as well as optimising arrangements for our incoming students," he concludes.
Distance Learning Programmes
The Distance Learning Postgraduate programmes unfortunately had their face-to-face residential programmes either cancelled or shortened. The programme directors made sure that the existing on-line teaching is supplemented by additional recorded material. They are investigating the different options to replace this year's face-to-face programmes to ensure there is no loss of learning.
It is also highly likely the Distance Learning September examinations will be delivered through an online format.  The team are looking at the best way of running these assessments and are currently in discussion with the ITEL (digital learning developers) experts to determine the way ahead.
Postgraduate Research
Like all others, Postgraduate research students are dealing with challenges that they have never faced before, trying to maintain their research and momentum while working remotely, some having travelled home to be with their families.  Whether or not students are dependent on laboratory and core facilities, they are maintaining their progress through data analysis, literature reviews, manuscript writing and remote journal clubs which will benefit all students regardless of the stage of their PhD.  They are all being expertly managed by their supervisors and colleagues through regular video-conferencing meetings, and postgraduate coordinators are maintaining contact with their students to ensure progress and well-being during these exceptional circumstances.
The faculty held its Postgraduate Research Day virtually.  The annual highlight and celebration of PGR student research and experience was showcased over 2 days online. Find out more about that here. 
Wellbeing
Due to the isolating nature of the lockdown, wellbeing is of particular importance at this time. The faculty has continued to help and support student, utilizing technology to bridge the physical gaps between us. Both Undergraduate and Postgraduate students are being supported by their Personal Tutors, whose help has been much appreciated by the student body.
The 7 Senior Personal Tutors introduced last year are ensuring that consistent messages are delivered to both tutors and students. We have been targeting the DPMGs', many of whom are now on the front line as well, as our overseas students that are still in Halls of Residence here in the UK.
We are working closely with the Student Counselling services to help provide signposts to wellbeing initiatives, as well as continuing to deliver counselling to students in need.
Weekly meetings are held between the Dean for Education, the Director of Student Welfare and the Chair and Vice Chair of the Dental Student Council, who collate questions and feedback from students across all years. Answers to these questions have been shared with the entire student body to ensure all feedback is acted on quickly.
Finally, a new virtual buddy scheme for all students has been established. Students who signed up to take part have been paired with a buddy, and encouraged to meet regularly for exercise, joint activities, or just for a chat.