19 July 2018
Depression-induced inflammation during pregnancy may impact newborns
The physiological impacts of depression on pregnant mothers may affect babies while in the womb and lead to changes in the behaviour and biology of newborns, finds new King's College London research.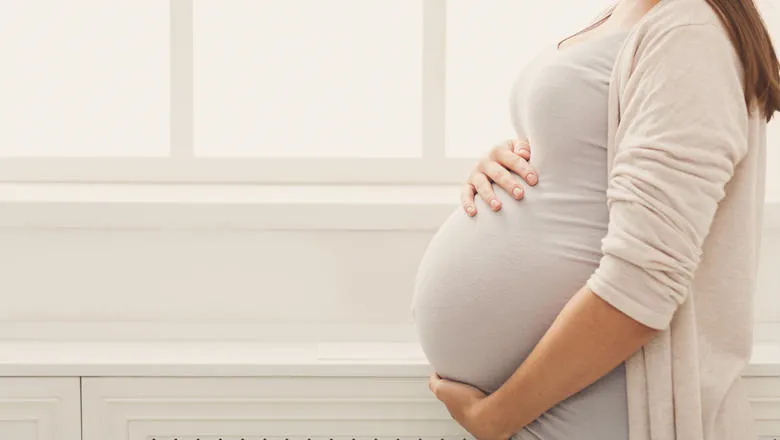 Pregnant woman
In a study of 106 women, babies born to mothers who were depressed during pregnancy showed altered behaviour soon after birth compared to babies of healthy mothers. Babies born to mothers with depression also showed biological changes in response to stress at one year old.
The researchers found that these behavioural and biological changes are linked to depression-induced inflammation, and suggest this could be a factor in why children born to mothers with depression have a higher risk of depression as adults.
The NIHR funded scientists recruited women who were 25 weeks pregnant (49 women with Major Depressive Disorder and 57 healthy women), and studied them and their babies up to one year after birth. 
They took blood from each woman at 27 weeks into their pregnancy to measure inflammation and assess whether depression put mothers' bodies under pressure akin to an infection. In addition, saliva samples were taken at 32 weeks into pregnancy, and levels of cortisol (the main stress hormone) were measured.
Blood samples from women with depression in pregnancy showed increased inflammation, and saliva samples showed increased cortisol levels when they woke up and in the evening. These women also gave birth an average of eight days earlier than the control group, at 39.2 weeks, rather than 40.4 weeks.
The researchers assessed the newborns' abilities at six days old, using the Neonatal Behavioural Assessment Scale (NBAS), to assess alertness and response to stimuli such as noise and light. At less than a week old, newborn babies born to mothers with depression in pregnancy had poorer performances than the control group.
In addition, babies had the cortisol in their saliva measured during their routine immunisations at two months and one year. Since every baby is vaccinated at the same age, the researchers used this opportunity to examine the babies' responses to the stress of immunisation. 
At one year, infants whose mothers had experienced depression in pregnancy had higher cortisol response following vaccination, indicating that they were more reactive to stress.
Crucially, the study identifies a previously unknown link between depression-induced inflammation in pregnant mothers and behavioural and biological changes in their babies.
Carmine M. Pariante, Professor of Biological Psychiatry, Institute of Psychiatry, Psychology & Neuroscience at King's College London, said, 'We already knew that children born to mothers who were depressed during pregnancy are more at risk of developing depression themselves when they reach adulthood, and this paper identifies one important biological mechanism that could explain this effect.'
'Interestingly, the behavioural and biological changes in the baby are not due to mothers' postnatal depression but uniquely to the depression in pregnancy, highlighting the importance of the in utero environment.'
Professor Carmine M. Pariante leads the NIHR Maudsley Biomedical Research Centre's research into affective disorders and their interface with medicine, and he is an NIHR Senior Investigator.
Dr Sarah Osborne, Senior Research Associate, funded by NIHR at the Institute of Psychiatry, Psychology & Neuroscience at King's College London, added, 'Antenatal depression is common, however, it is also easily diagnosed and treated. This study highlights the importance of pregnant mothers seeking treatment for clinical depression, as it could have long-term beneficial effects for children.'
The findings have been published today in Psychoneuroendocrinology. 
The research was funded primarily by the NIHR Maudsley Biomedical Research Centre at the South London and Maudsley NHS Foundation Trust and King's College London, with additional funding from the UK Medical Research Council, the Foundation for the Study of Infant Deaths and the Psychiatry Research Trust.
There are limitations to this research as the researchers had a small sample study, and the researchers would recommend replication in a larger sample. As expected in a longitudinal study of an inner city group of people, subject retention reduced over time, and at 1 year postnatal only 87 mothers and their infants (51 controls and 36 cases) were assessed.
Notes to Editors
Citation
Psychoneuroendocrinology, Antenatal depression programs cortisol stress reactivity in offspring through increased maternal inflammation and cortisol in pregnancy: the Psychiatry Research and Motherhood – Depression (PRAM-D) Study
Osborne, S; Biaggi, A, Chua, T.E; Du Preez, A; Hazelgrove, K; Nikkheslat, N; Previti, G; Zunszain, P.A; Conroy, S; Pariante, C.M.
https://www.journals.elsevier.com/psychoneuroendocrinology
Contact
Alex Booth, Communications and Engagement Manager, NIHR Maudsley Biomedical Research Centre (BRC), at South London and Maudsley NHS Foundation Trust and King's College London. alex.booth@kcl.ac.uk and 020 7848 0495.  maudsleybrc.nihr.ac.uk/
The National Institute for Health Research (NIHR)
The National Institute for Health Research (NIHR): improving the health and wealth of the nation through research. Established by the Department of Health and Social Care, the NIHR:
 ·         funds high quality research to improve health
·         trains and supports health researchers
·         provides world-class research facilities
·         works with the life sciences industry and charities to benefit all
·         involves patients and the public at every step.
For further information, visit the NIHR website www.nihr.ac.uk
About King's College London kcl.ac.uk   
King's College London is one of the top 25 universities in the world (2017/18 QS World University Rankings) and among the oldest in England. King's has more than 26,500 students (of whom nearly 10,400 are graduate students) from some 150 countries worldwide, and nearly 6,900 staff. The university is in the second phase of a £1 billion redevelopment programme which is transforming its estate.
King's has an outstanding reputation for world-class teaching and cutting-edge research. In the 2014 Research Excellence Framework (REF) King's was ranked 6th nationally in the 'power' ranking, which takes into account both the quality and quantity of research activity, and 7th for quality according to Times Higher Education rankings. Eighty-four per cent of research at King's was deemed 'world-leading' or 'internationally excellent' (3* and 4*). The university is in the top seven UK universities for research earnings and has an overall annual income of more than £600 million.
King's has a particularly distinguished reputation in the humanities, law, the sciences (including a wide range of health areas such as psychiatry, medicine, nursing and dentistry) and social sciences including international affairs. It has played a major role in many of the advances that have shaped modern life, such as the discovery of the structure of DNA and research that led to the development of radio, television, mobile phones and radar.
King's College London and Guy's and St Thomas', King's College Hospital and South London and Maudsley NHS Foundation Trusts are part of King's Health Partners. King's Health Partners Academic Health Sciences Centre (AHSC) is a pioneering global collaboration between one of the world's leading research-led universities and three of London's most successful NHS Foundation Trusts, including leading teaching hospitals and comprehensive mental health services. For more information, visit:kingshealthpartners.org/
The Medical Research Council https://mrc.ukri.org
The Medical Research Council is at the forefront of scientific discovery to improve human health. Founded in 1913 to tackle tuberculosis, the MRC now invests taxpayers' money in some of the best medical research in the world across every area of health. Thirty-two MRC-funded researchers have won Nobel prizes in a wide range of disciplines, and MRC scientists have been behind such diverse discoveries as vitamins, the structure of DNA and the link between smoking and cancer, as well as achievements such as pioneering the use of randomised controlled trials, the invention of MRI scanning, and the development of a group of antibodies used in the making of some of the most successful drugs ever developed. Today, MRC-funded scientists tackle some of the greatest health problems facing humanity in the 21st century, from the rising tide of chronic diseases associated with ageing to the threats posed by rapidly mutating micro-organisms. The Medical Research Council is part of UK Research and Innovation.