11 February 2019
Development of King's College New Malden Sports Facility
King's Sport
Notice of proposed development at of the King's College New Malden Sports Facility.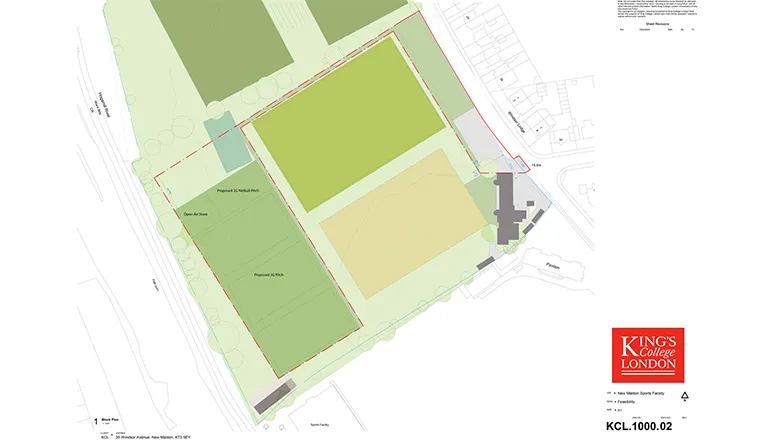 New Malden Development 2019
King's Sport of King's College London has to date undertaken initial design development work to help ascertain what improvements and enhancements can be made to the existing sporting facilities to improve provision and grow levels of activity. The development will be for the benefit of their students, AFC Wimbledon and the local schools and community groups who all use the site on a regular basis.
The work has been carried out alongside relevant professional consultants, to ensure the proposals being developed are policy complaint, sustainable and will not cause undue harm to the surrounding local environment or amenity of the area.
As part of this process, King's College London has recently submitted a pre-application request to The Royal Borough of Kingston Upon Thames to seek their views on the following proposed development:
"Redevelopment of part of the New Malden Sports Facility to provide: installation of a new 3G synthetic sports pitch, installation of a new netball court, fencing to perimeter of the proposed pitch, court and car parking boundary, installation of flood lighting (associated with 3G pitch and netball court), installation of sustainable land drainage and surface water attenuation in relation to the proposed pitch, court and associated flood risk, creation of an open-air external storage area adjacent to the new 3G pitch and netball court, internal alteration and refurbishment of existing brick-built store, widening of existing site vehicular access to ease congestion and proposed overflow parking provision, and installation of dedicated pathways to create level, safe and complaint access to the new 3G pitch and netball court."
We would welcome your views on the proposals and if you should have any comments please email these to: