21 March 2016
Digital Humanities' Paul Spence co-investigator on £3.5M modern languages project
Academics led by King's College London's Professor Catherine Boyle have been awarded £3 million by the AHRC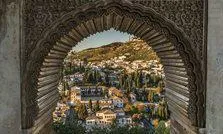 -
A team of academics led by King's College London's Professor Catherine Boyle has been awarded almost £3 million by the Arts & Humanities Research Council(AHRC) to lead research that will seek to inform the future of the study and teaching of Modern Languages (ML).
The Language Acts and Worldmaking project, which is one of four funded under the AHRC's Open World Research Initiative (OWRI), will explore how learning a language affords greater cultural understanding of the world through the multilingual and multicultural lens of Iberian languages, empires and contact zones.
The OWRI scheme represents the most significant research funding investment in Modern Languages since it was designated a priority area in the AHRC's 2011-2015 delivery plan [pdf]. The total FEC value of the project is £3.5 million.
'A wonderful opportunity for Modern Languages'
Professor Catherine Boyle said: 'Having one of the AHRC's flagship Open World Research Initiative programmes at King's is a wonderful opportunity for Modern Languages. Our project, 'Language Acts and Worldmaking', is inspired by research and teaching in the global reach of Iberian languages and cultures. We will be studying the ways in which Spanish and Portuguese have forged historic and ever-changing processes of cultural exchange, movements of people and migration of ideas, constantly in contact with many other languages and cultures. This is at the heart of the way we understand "world-making". 
'In its contemporary force we hope to inspire our students, in collaboration with academic colleagues and partners from a variety of sectors, to engage with the urgency of the need to understand how we make our world through the complex languages we use; to be part of a project that seeks to embrace the AHRC's challenge to have a transformative impact on the study and teaching of Modern Languages.'
The researchers will seek to inform new thinking about Modern Languages teaching and will carry out extensive public engagement through artistic performances, policy White Papers, workshops, lectures and summer schools.
A project with interdisciplinarity at its heart
The research project brings together academics from King's Faculty of Arts & Humanities in the areas of Spanish, Portuguese & Latin American Studies, Digital Humanities and its Modern Language Centre as well as those from Queen Mary, University of London, the University of Westminster and the Open University. There are a further 16 academic and cultural partners in the project.
Department of Digital Humanities' Paul Spence will lead research studying the impact of digital culture on teaching and research in the Modern Languages, in particular examining how digital methods, networks and datification contribute to the process of "worldmaking".
 
'Digital culture introduces new opportunities (and new challenges) to the process of interpreting the human record. This strand will bring together Modern Languages and digital humanities researchers in examining what kinds of "translation" are enacted as information enters and leaves the digital sphere, and the extent to which data, as a complex cultural product in its own right, represents a meaningful record accessible to Modern Languages research and learning.'
Professor Russell Goulbourne, Dean of the Faculty of Arts & Humanities at King's, said: 'This prestigious award by the AHRC underlines the great significance of understanding other languages in our lives and our societies today and the vital importance of studying them as widely as possible in schools and universities. The team led by my colleague Professor Catherine Boyle brings together preeminent researchers from across our departments in the Faculty of Arts & Humanities as well as from a number of our peer institutions and partner organisations, and their groundbreaking project demonstrates the crucial role played by the study of languages in world-class interdisciplinary research.'
Lead partners of the other three OWRI grants are the universities of Oxford, Cambridge & Manchester, with co-investigators from a further eight universities.
The AHRC funds world-class, independent researchers in a wide range of subjects: ancient history, modern dance, archaeology, digital content, philosophy, English literature, design, the creative and performing arts, and much more. This financial year the AHRC will spend approximately £98 million to fund research and postgraduate training in collaboration with a number of partners. The quality and range of research supported by this investment of public funds not only provides social and cultural benefits but also contributes to the economic success of the UK. The AHRC's announcement can be found here: http://www.ahrc.ac.uk/newsevents/news/open-world-research-initiative-launched/
In this story