05 October 2016
Discover Science: Ada Lovelace Schools Celebration
Women in Science Week at King's College London is not only intended to celebrate the incredible women already working and studying in the Faculty of Natural & Mathematical Sciences- we're showing school girls they're important too. Our schools' day welcomed 58 pupils from across London for a day of discovery. The Anatomy Museum at King's College London is of extreme historic scientific interest and dates from the late 1920s. As soon as we started planning, there was an overwhelming response from schools and teachers to get their students taking part.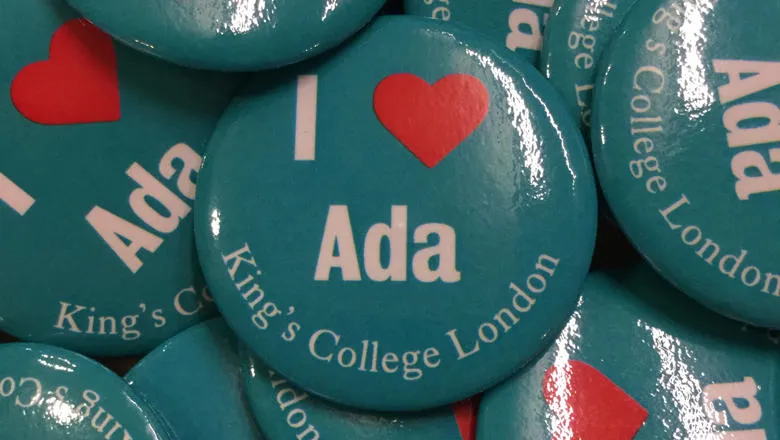 I Love Ada badges
Throughout the day the girls were chaperoned by KCL Chem Soc, a group of molecular masters on a mission to make a difference.
We kicked off with a lecture from Dr Helen Coulshed, who discussed the material properties of our flexible friends, polymers. It was a whirlwind 30 minutes, taking the students from carbon – carbon double bonds to setting fire to Barbie's face. Dr Coulshed is an engagement expert who knows the best way to learn about plastics isn't by watching a PowerPoint – instead she got students making Nylon.
Once the solvents were safely away, Dr Wayne Dickson discussed the rich history of physics at King's, from Wheatstone to Maxwell to Higgs. Through pregnancy tests and stained glass windows, Dr Dickson introduced his research using nanoparticles in biological applications. There was amazing enthusiasm throughout- "[Discover Science] deeply inspired me to make a difference, but most importantly it has given me the confidence to be myself".
We were joined at lunch by members of the student society WiSTEM, King's College's most proactive campaigners for Women in STEM. The students quizzed WiSTEM on their A-Level choices, career paths and plans for the future- sharing ideas, experiences and advice. The Anatomy Museum has probably not seen an audience as lively in its one-hundred-year history.
After lunch we were joined by the Centre for Robotics Research/ Maker Space "the Wheatstone Lab", who used Lego Mindstorms to get the students creating robot art. Fresh from the V&A Digital Design Weekend, Dr Matthew Howard and co-workers led the workshop, discussing how research from King's College London is shaping the AI workforce of the future.
We finished with campus tours, including the now mandatory selfies with Kinba and Reggie.
It was an immensely beneficial day for all involved; from school students, "the things I have learnt have broadened my horizons extensively", to members of the King's College community. 
In this story