10 July 2017
Dr Alice Taylor announced as co-winner of 2017 Whitfield Prize
Dr Alice Taylor's first book, The Shape of the State in Medieval Scotland, 1124-1290, has been announced as co-winner for the Royal Historical Society's 2017 Whitfield Prize.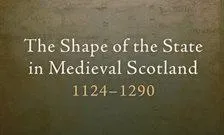 shape of the state
The prize offers an annual award of £1,000 for a work on British or Irish history that is the author's first sole book publication.
The judges said: "The Shape of the State in Medieval Scotland is a work of great scholarship and insight. Through its penetrating analysis of detailed evidence and complex sources, it builds a picture of the gradual development of the state in early Scotland, drawing upon fresh approaches and evidence to yield a textured and nuanced understanding of the growth of royal government in 12th and 13th-century Scotland.
"Situating its analysis in a European perspective, it makes an important contribution to the study of medieval kingship, statecraft and the aristocracy. This is a groundbreaking book which will set the terms of debate for many years to come."
The shortlist announcement can be read here.