05 October 2018
Dr Kamini Gupta takes top prize at Strategic Management Society (SMS) Annual Conference in Paris
Lecturer in International Business & Comparative Management (ICBM), Dr Kamini Gupta won two awards at the Strategic Management Society (SMS) Annual Conference hosted in Paris from Sunday 23-Tuesday 25 September. Dr. Gupta won the coveted SMS Annual Conference Best Paper Prize. The Strategic Management Society has presented this award to nominated authors since 1988. Selected authors submit a full version of their submitted proposal for consideration by the selection committee.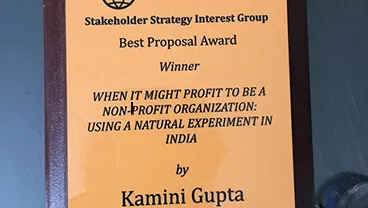 After a review of 53 full papers selected for consideration, 10 finalists were named prior to the conference. Out of those 10 finalists, Dr. Gupta's paper was selected as the best paper submitted to the conference across all divisions, based on criteria such as soundness of conceptual development, originality and new contribution and relevance to management practice. The award also carried a monetary value of $1500 and was presented at the awards luncheon at the conference.
In addition, she also won the Best Proposal Award from the Stakeholder Strategy Interest Group, this award was for the best proposal submitted to the Stakeholder Strategy Interest Group (SIG) at the conference and was selected from among 96 submissions.
The paper submitted by Dr. Gupta was called When It Might Profit To Be A Non-Profit Organization: Using A Natural Experiment, and it explores the difference in effectiveness between for-profit and non-profit organisations in contexts characterized by high uncertainty.
On winning her award "I am very honored to be selected as the conference best paper prize winner. The award represents huge positive reinforcement from senior colleagues in the field and motivates me to continue working hard on issues that can make a positive impact on both scholarship and practice. The award has also helped make my work more visible and consequently, helped me make new connections with people with similar interests."
For more information about the awards, see here.