03 July 2018
Dr Sally Marlow interviews Jeremy Hunt for BBC Radio 4
Dr Sally Marlow from King's College London has interviewed Jeremy Hunt, the Secretary of State for Health and Social Care, as part of a BBC Radio 4 series on adolescent mental health.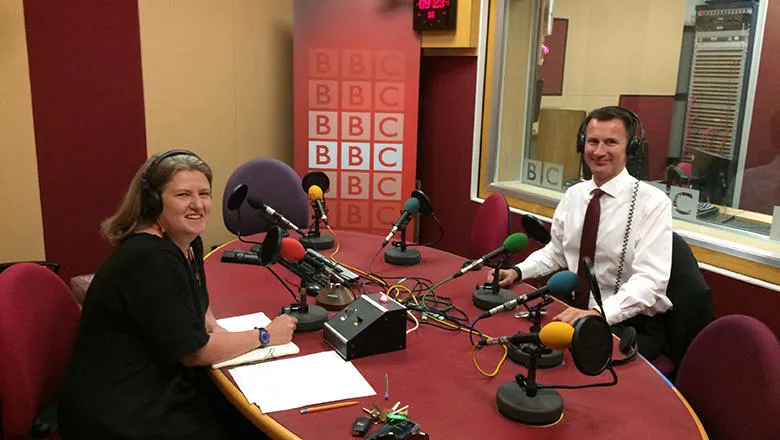 Sally Marlow and Jeremy Hunt
In the final episode of a four-part series presented by Dr Marlow, who is a Public Engagement Fellow at the Institute of Psychiatry, Psychology & Neuroscience (IoPPN), Mr Hunt was quizzed on some of the issues young people had raised during the making of the series, and on the Government's green paper on measures to improve mental health support for children and young people.
When asked about how the Government will achieve its goal of reducing waiting times for accessing Child and Adolescent Mental Health Services (CAMHS) from up to 18 months to a maximum of 4 weeks, Mr Hunt said: 'We need to expand our capacity to deliver the green paper. Currently we have about 9000 people working in CAHMS. We will need an extra 8000 people, so we'll nearly be doubling the size of the current workforce.'
However, Mr Hunt said expansion would take time and that the schools service outlined in the green paper would take pressure off NHS services by focusing on prevention.
'What we decided to do was to set up a brand-new service in partnership with schools, jointly run by schools, which would tackle people with mild to moderate needs,' said Mr Hunt. 'Later this year we'll be announcing two pilot areas for the new schools service.'
Dr Marlow put a question from one of the young people interviewed during the series, Alex, who asked: 'When will it be compulsory to have a councillor and mental health discussions in every single school in the UK?'
Mr Hunt said he was working with the Department for Education on how to incorporate mental health into the curriculum, and that there is a problem when young people leave school without knowledge about mental health. 'They don't leave school knowing about the key things to do to look after your mind… like the importance of strong relationships, like the importance of exercise, diet, the benefits of learning throughout your life.'
Previous episodes of the BBC Radio 4 series have covered a breadth of topics in adolescent mental health and have featured the views and experiences of young people, researchers and clinicians. Researchers from IoPPN interviewed as part of the series include Professor Sir Simon Wessely, Professor Ulrike Schmidt, Professor Carmine Pariante, Professor Thalia Eley, Dr Stephani Hatch and Dr Dennis Ougrin.
Episode one looks at whether there are generational differences in the mental health of young people, or whether mental health is simply talked about far more openly than it once was.
Episode two examines advances in our understanding of adolescent brain development through neuroscience, environmental stressors, and psychological processes.
Episode three looks at new ideas around continuity of care, focusing on the traumatic transition faced by young people moving from child to adult mental health services.
Listen back to all episodes of 'Storm and Stress: New Ways of Looking at Adolescent Mental Health' on BBC iPlayer.