07 March 2019
DSD Academics provide new perspectives on Wellington and World War II
Dr Jonathan Fennell and Dr Huw Davies of the Defence Studies Department launch their new historical publications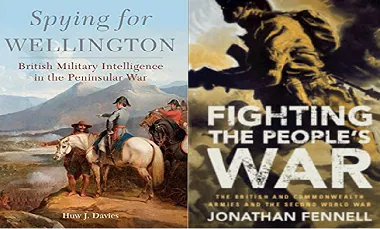 Two recently published highly-praised books by Academics of the Defence Studies Department have been launched at King's over the previous weeks; 'Fighting the People's War' by Dr Jonathan Fennell, and 'Spying for Wellington' by Dr Huw Davies.
Both launches attracted large audience numbers, interesting Q&A sessions and an overflow of discussion in the receptions.
Fighting the People's War is an unprecedented, panoramic history of the 'citizen armies' of the United Kingdom, Australia, Canada, India, New Zealand and South Africa, the core of the British and Commonwealth armies in the Second World War. Drawing on new sources to reveal the true wartime experience of the ordinary rank and file, Jonathan Fennell fundamentally challenges our understanding of the War and of the relationship between conflict and socio-political change.
Spying for Wellington shows us an organization that was, in effect, two parallel networks: one made up of Foreign Office agents "run" by British ambassadors in Spain and Portugal, the other comprising military spies controlled by Wellington himself. The network of agents supplied strategic intelligence, giving the British army advance warning of the arrival, destinations, and likely intentions of French reinforcements. The military network supplied operational intelligence, which confirmed the accuracy of the strategic intelligence and provided greater detail on the strengths, arms, and morale of the French forces.
In this story