16 December 2020
Early career researcher wins UKRI 2020 Medical Humanities Award
Oli Williams has been awarded the Best Doctoral or Early Career Research prize in the 2020 Medical Humanities Awards.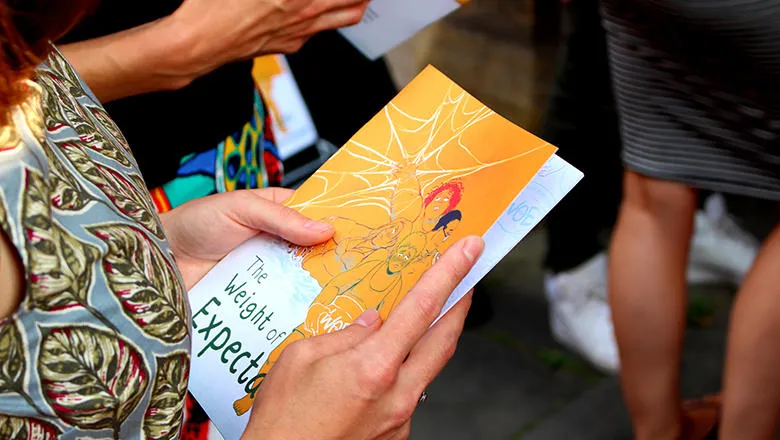 Oli Williams has been awarded the Best Doctoral or Early Career Research prize in the 2020 Medical Humanities Awards for The Weight of Expectation, a project which tackles stigma around weight through comic books.
Oli's doctoral research investigated how the 'war on obesity' promotes stigma and negatively impacts people's lives. His commitment to using research to support social change led to the creation of the project 'The Weight of Expectation: how stigma gets under the skin and is bad for our health'. Through collaboration with artists and designers, Oli wanted to make research more accessible and engaging for broad and diverse audiences.
On receiving the award, Oli said, 'It's great to see this project get this sort of recognition. So many people made The Weight of Expectation project what it has become. I want to thank all those who shared their experiences with me during my doctoral research, Jade Sarson who illustrated them in the comic, my brother Joe (co-founder of AWL) who co-created a touring exhibition with me and Abbie Trayler-Smith for joining us on the tour.
As the short listing demonstrates, these awards are showcasing impressive and important research and celebrating the talents and achievements of an exceptional group of people – it is great to be included in that number. The reaction to this project winning the award has been really lovely if but a little overwhelming. The more attention and recognition given to work on weight stigma the better because we are in drastic need of change.'
The project is now supporting health services and medical education around the world to assist healthcare professionals improve standards of care and to teach the next generation about the negative impacts of weight stigma. This project led to Oli's involvement with a petition calling on Cancer Research UK (CRUK) to stop running stigmatising 'obesity' campaigns. The petition received public support, media coverage and led to constructive dialogue with CRUK. Additionally, Oli has been selected to contribute to the All-Party Parliamentary Group on Obesity, and was invited to speak at the parliamentary conference 'How to Beat Obesity Stigma?'.
The award, from The Arts and Humanities Research Council in association with the Wellcome Trust- celebrates arts and humanities research that seeks to understand and transform the quality of life, health and wellbeing of the population. This year's winners have successfully challenged the way we approach medical science and informed health policy in the UK and internationally. The award winners were announced in an interview on BBC Radio 3's 'Arts and Ideas' show which can be downloaded as a podcast or listened to here.
In this story