05 December 2017
ECS Student Wins Outstanding PhD Award
Sam Holmes, recent PhD student at the School of Education, Communication & Society, wins the Elsevier award for his ethnographic study of 'Lusondoners', Londoners with Portuguese-speaking roots.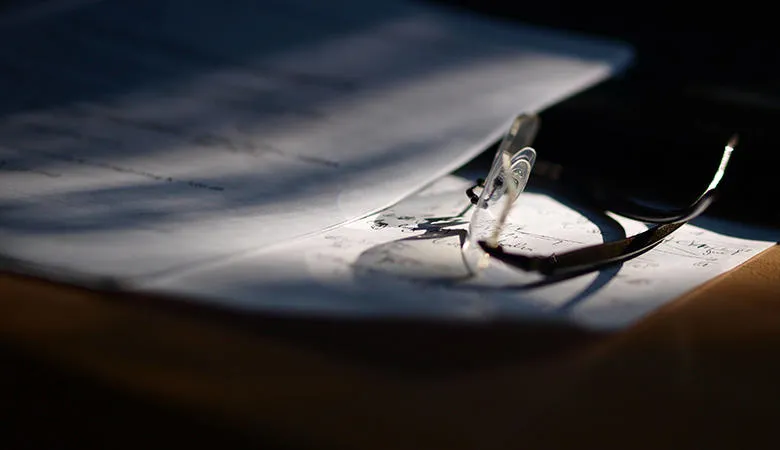 Glasses on top of paper
Sam Holmes has won a 2018 Elsevier Outstanding PhD Thesis Prizes for his ethnographic study of Londoners with Portuguese-speaking roots. Sam was a student at the Centre for Language, Discourse & Communication (LDC), a leading linguistics centre based at the School of Education, Communication & Society.
He was  "I am delighted to win this award. I'd like to thank my supervisor Dr Roxy Harris. His careful guidance over so many years was invaluable, and I am immensely grateful for all the challenging feedback he provided, and for the chance to study within the wider LDC environment."
The thesis offers an ethnographic account of how diverse Lusophone ties contribute to shaping ethnic positionings and linguistic practices within the superdiverse context of a south London secondary school in the UK. The term "Lusondoner" is proposed as a way of conceptualising young Londoners who retain transnational family ties to Portuguese-speaking locations as well as a strong grounding in the daily linguistic and cultural practices of their London neighbourhood. Their ethnic affiliations and linguistic practices are not simply inherited from parents but are heavily influenced by locality and peer group.
In London this means attending to the hybridity thrown up by contemporary superdiversity. This study adopted a linguistic ethnographic approach, focusing on the often complex and hybrid ethnic affiliations and linguistic practices which emerge through everyday interactions, with a critical perspective on dominant discourses of ethno-linguistic categorisation not previously attempted in research dealing with "Portuguese-speakers" in the UK.
"Lusondoners" fell into three broad ethnic fractions: "White Portuguese" (both "Mainland" and "Madeiran"), "Brazilian", and "Black Portuguese". Despite divergent migration patterns and mutual recognition of their distinctiveness, these fractions shared a common Lusondoner discursive space, rooted in their access to the Portuguese language and global Lusophone cultural space, as well as their experience of living together in south London. This discursive space was grounded in a local context characterised by a sense of multiethnic conviviality, within which recognised stereotypical ethno-national representations were traded between individuals of different ethnic affiliations: snatches of Portuguese language were employed by non-Lusondoners within inter-ethnic banter, while different varieties of Portuguese language were drawn on as part of banter between Lusondoners.
Within this local peer context, a Local Multiethnic Vernacular (LMEV) form of speech was dominant. Its use emerged as a major strategy for individuals to embed themselves in the local, but only if they were able to establish ethnic positionings which their peers recognised as legitimate for employing LMEV. In doing so, individuals had to negotiate a local ethnic ecology in which the ethnic/racial category "Black" was both hyper-visible and infused with specific locally constructed historical meanings which some Lusondoners found could not accommodate them. These findings highlight how dominant discourses of ethno-linguistic categorisation cannot account for the complex ethnic formations and linguistic practices thrown up by superdiverse conditions. To understand the notion of the 'Lusondoner', a consideration of the specificities of locality is vital.
The award was nominated by the external examiners who assess your thesis, and judged by a panel consisting of Dr Nigel Eady (Director, Research Talent) and Professor Ann Mumford (Chair, Research Degrees Examinations Board). The prize is a journal subscription, a certificate and a cheque to the sum of £100.