15 May 2023
Election success for student shows that every vote counts
A King's student proved that every vote really does count at the local elections as he won his seat by the narrowest of margins.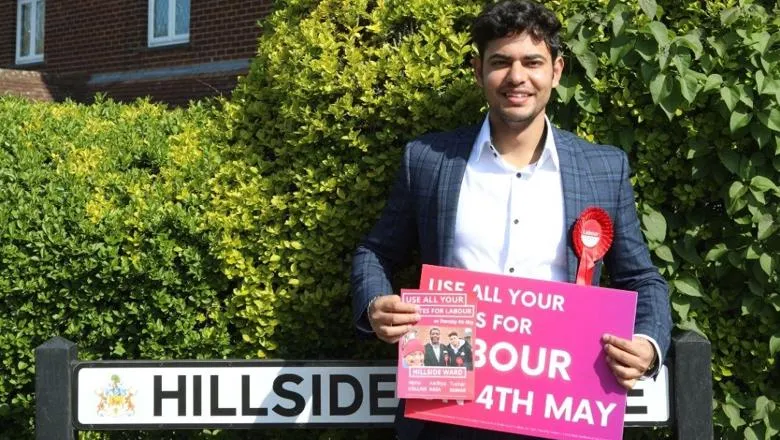 Tushar Kumar
Tushar Kumar, a second-year undergraduate studying BSc Politics, was elected to Elstree and Borehamwood Town Council, in Hertfordshire, with 832 votes, edging out his nearest competitor after a recount by just a single vote.
And Tushar made history at the election by helping the Labour group take overall control of the town council for the first time this century.
Tushar, 20, said: "It was exciting being at the count. I waited overnight for the result to come in and it didn't finish until 5.30am because it was so close. We had to wait for a recount and I went from finishing behind the Conservative candidate to ahead of them. I couldn't believe it and it shows that every vote certainly counts."
Tushar wasn't the only one celebrating after the election results came in as his mother, Parveen Rani, also stood in the local elections on 4 May and won a seat on Hertsmere Borough Council, in Hertfordshire. Both Tushar and Parveen were standing in elections for the first time.
As a town councillor, Tushar will be expected to attend regular council meetings, vote on local planning issues and help residents with constituency enquiries.
His success at the election came on the back of a busy campaign which saw him go door-to-door speaking with voters, gaining insight into local issues as well as valuable experience. Tushar was also determined to stand in the election to help inspire young people to engage more with politics.
He said: "I have been involved in politics since a young age and I see that young people like me aren't really involved, there's not a lot of trust, so I really wanted to represent the younger generation and show them that things can be different.
"I wanted to bring about some change and show that young people can do so too. I want to deliver on the promises that I have made and change some perceptions."
Tushar credits the Civic Leadership Academy at King's for helping improve his confidence and public speaking skills, and said his experience with the University Officers' Training Corp was also hugely valuable in developing his leadership.
In future, Tushar hopes to move into public service, either in the world of politics or in the civil service.