30 January 2019
Elsa Desmond: Getting to the Olympics by Luge
Elsa Desmond, King's Sport Performance Athlete
A blog post by the Luge athlete and King's student about her sporting career, life at King's and her road to the Olympics.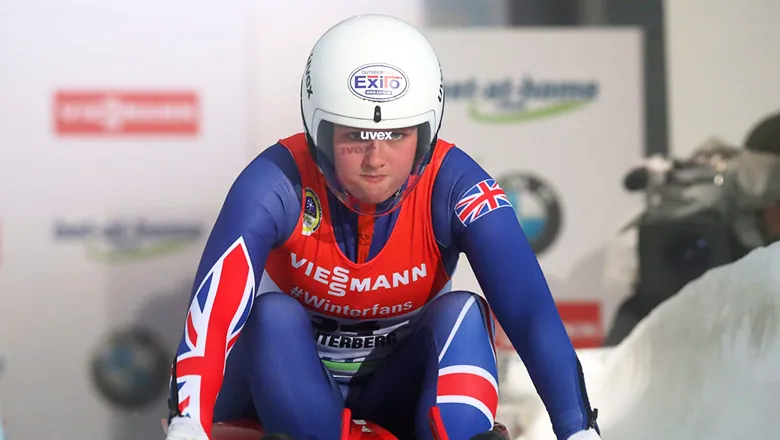 Elsa Desmond, King's Sport Performance Athlete 2018/19
Luge is an ice sport similar to Bobsleigh or skeleton and is the fastest of the three. Competitors race down a mile long icy track lying on their backs on a small sled, with their feet stretched out in front of them. Reaching speeds of up to 140 kph, concentration and precise control techniques are vital.
I became excited by the sport as a child watching the Olympics and had the opportunity as a teenager to travel to Innsbruck in Austria to take part in an army sliding camp. I was hooked from my very first run! Now, years later I am representing GB in my first senior international season.
I balance my training with studying, as I am currently in my 3rd year of Medicine and need to carefully manage my time to maintain both commitments. I achieve this thanks to the support I receive from King's Sport and King's Medical Faculty. Both, in terms of the use of facilities, strength and conditioning sessions, sports psychology support and in allowing me to rearrange timetables as well as organising catch-up sessions. Luge is entirely unfunded, so King's support is invaluable.
This season, my first as a senior having come up from the junior rankings, has been a massive jump for me. King's support has been essential as I have been competing in my first series of World Cups, travelling to a variety of countries from November through until March.
After a challenging few weeks of pre-season, I kicked off the winter with a PB at the Innsbruck World Cup achieving a 33rd place finish in Nations cup. This was swiftly followed by a 22nd place finish in Nations cup in Calgary. I had a rocky start to 2019 as I crashed out in Konigssee's new years World Cup, but this didn't stop me!
In early January I flew to Winterberg in Germany for the 2019 World Championships. I wasn't sure how things were going to go as I fractured my ankle in pre-race training but couldn't have been happier with the results. I finished in 30th place, the highest ranking British female, 10th in the Under 23s and 34th in the sprint event. Now it is time to focus on rehab, with the Oberhof World Cup and British Championships still to come.
Every time I slide, I learn something new and try to improve with my long term goal to make it to the Olympic Games. We are currently on a path aiming towards 2022 in Beijing.
In this story