16 May 2019
Engaging with midwifery, education, birth and feminism through artwork
Announcing the Birth Rites Collection Summer School - an opportunity to engage with contemporary artwork dedicated to childbirth.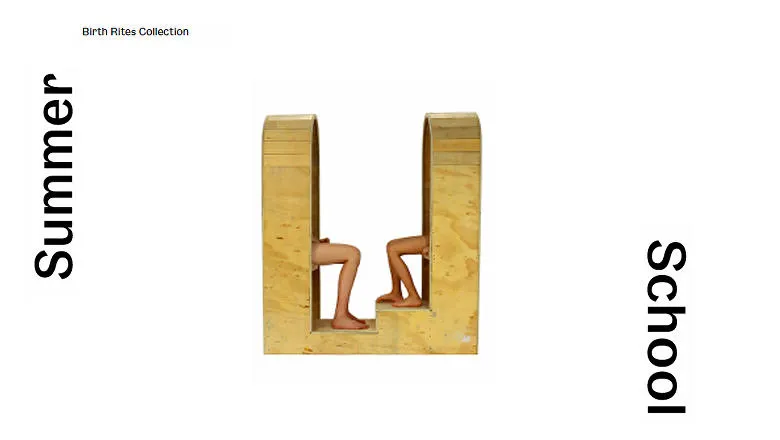 Leni Dothan, MOTHERCHILD machine n°7, wooden structure, mother, child, 02:21 one channel video loop, 2019, courtesy of the artist, Birth Rites Collection and Procreate Projects
This summer we'll be opening our doors to healthcare professionals, students, scholars and artists to explore the subject of childbirth through the Birth Rites Collection,  a collection of contemporary artwork dedicated to childbirth, hosted by the Department of Midwifery at Guy's Campus.
The Birth Rites Collection Summer School is a five-day programme from 15 to 19 July featuring lectures, workshops, talks and exchanges, working directly with the artworks and artists, creating visual, textual auditory and filmic material.  Participants will explore themes including
How the Collection informs and unpacks attitudes in midwifery, medicine and education and it's potential to change practice and policy
It's impact on the feminist contemporary art canon and the rehabilitation of the visual discourse of the birth aesthetic into art history
Censorship of works on birth, institutional responses, ethics and the law
Artistic and midwifery practices that address reproduction in the digital age, AI, simulation and the non-binary
The Summer School will be led by Helen Knowles, curator of the Collection, and Hermione Wiltshire, artist and Senior Lecturer in Photography at the Royal College of Art, along with guest speakers and facilitators.
Interested in joining us this summer?
The Birth Rites Collection Summer School is £850 per person/ £600 concession rate (for practising artists, students and those with a low-income). There are 20 full price places and five concession rate places – first come first serve. Book here.
There is also one bursary place available, offered on the basis that the candidate's professional interests are relevant to the Summer School content. Please send your CV with your application and deposit to born@birthrites.org.uk explaining why you think you would benefit from this bursary place.
See Birth Rites Collection
There are regular lunchtime and evening tours of Birth Rites Collection – see the latest dates.