17 December 2014
English ranked 8th in the UK in the REF
The Department of English is delighted to announce its strong performance in the Research Excellence Framework (REF) achieving a power ranking of 8th in the UK and 2nd of those in the Russell Group.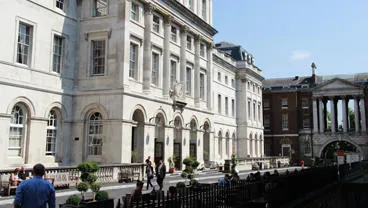 King's College London, Strand Campus
The REF assesses the quality of research taking place between 2008 and 2013 in UK higher education institutions with the power ranking assessing the quality and quantity of research activity. 80% of research was rated as world-leading or internationally excellent achieving 4* and 3* status while 4* and 3* impact was 100% demonstrating the Department's strong commitment to furthering the reach and significance of its research.
The Department of English submitted 46 out of its 56 eligible staff to have their research assessed with 163 research outputs in total. Since the last Research Assessment Exercise (RAE), the English Department has more than doubled in size in order to build upon established strengths in early medieval studies, textual editing and life writing and to branch out into new areas of research including American literature, theatre and performance, literature and medicine and creative writing.
Central to the Department's mission to foster the cross-fertilisation of ideas across disciplines is the establishment of five strategic research themes: visual, material, textual and digital cultures; literature, medicine and science; life writing, creative writing and performance; sexuality and gender; and colonial, postcolonial and transnational literature and culture. Research income has also increased more than ten-fold since the RAE with the Department awarded over £2 million by July 2013.
Professor Richard Kirkland, Head of the Department of English, commented: 'During our ambitious period of expansion the desire to establish the English Department as an internationally-recognised centre for high quality research was a priority. Today's REF results vindicate that policy and I am very proud of my colleagues and the brilliant research they have undertaken. We now have in place a long-term research strategy that will enable us to build upon this success in our core areas while enabling us to develop new initiatives. These are exciting times for the Department of English at King's.'
A new element of the REF was the requirement for higher education institutions to demonstrate the impact their research was having on the economy, society, culture, public policy, services, health or environment, beyond academia. The Department of English has always sought to be a dynamic force in the cultural life of the capital and their performance in the REF testifies to the impact they have had in this respect. From working with museums and galleries to enhance their collections, to building public audiences for literary events, to using textual editing research to inform cultural performances.
Impact case studies included the work of Professor Max Saunders who acted as a literary consultant for the BBC / HBO series of Parade's End, following his work producing a critical edition of Ford Madox Ford's tetralogy of novels. To date the adaptation has been watched by 2.5 million viewers many of whom were not previously aware of Ford or his novels.
In another example of the Department's reach outside academia, Dr Elizabeth Eger's work on 18th century women's writing led to a free public exhibition at the National Portrait Gallery. The exhibition aimed to introduce the general public to the Bluestockings – a group of intellectual women who had significant social and literary impact upon Enlightenment Britain but who were subsequently written out of history. The exhibition attracted an audience of over 185,000 people, approximately twice the number predicted, with 40 per cent of people saying it was their first time at the National Portrait Gallery.