21 July 2015
English student profile: Jonathan Andrews
Jonathan Andrews tells us about his time at King's - why he chose to study English, the highlights of his course and the exciting things he's been involved in outside of university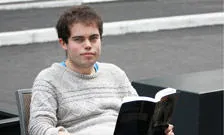 Jonathan Andrews
Why did you choose to study at King's?

I always knew I wanted to study English. When teachers tried to tempt me into applying to study History, Philosophy or Psychology, I'd simply reply "But I can do all those – and more – in an English degree!" That was one of the main reasons I chose King's – the range of module choices is incredibly imaginative. 
Over my time here, I've studied Victorian Literature, Medieval Literature, and Poetry. I've also learnt how to translate Old English and Anglo-Saxon poetry into my own, creative work.
As it is a Literature and Language degree, I've taken modules on the history of language and violence too. Whatever it is about English and the world that fascinates you, there'll be something in this course for it.

What has been the highlight of your course?
The highlight has to be two of my final year modules, 'Sonnets: Renaissance to Modern' and 'Reading Paradise Lost' - both were incredibly innovative.
For 'Sonnets', our convener, Elizabeth Scott-Baumann, gave us the option of writing our own sonnet and a commentary on it for our final piece, which I jumped at. We were given free reign to write what we wanted, so I decided to emulate the political sonnets of Milton, Shelley and Heaney with a commentary on the then-upcoming general election. I think I can safely say I'm the first person to get a first class mark for a poem about Nicola Sturgeon slaying a red Labour dragon as part of a Book of Revelation allegory!
Similarly, for 'Reading Paradise Lost' we had a wonderful mid-term assignment in which we wrote a poem in the style of John Milton – a fantastic idea, which was topped off by our convener, Hannah Crawforth, having our poems published as a memento because they impressed her so much.
What has been the biggest challenge, and how have you overcome it?
I'd have to say adjusting to the difference between university and school in terms of the skills you need to move onto the next level. At school, I knew I wanted to go on to university so I focused almost entirely on academics.
At university, while the work is much more academically demanding, you can't focus entirely on grades if you want to build up employability skills for getting a job after. It's a tough thing to get right, because you don't want to overdo either side and neglect the other.
It can also be tough to deal with bad marks, especially when you're a perfectionist like me, but they come and you need to be able to pick yourself up and move on afterwards.

What advice would you offer students thinking of studying your course?
Go in with an open mind about what English at King's is. It's not comparable to A-level English – literary theories (e.g. feminism, queer theory, psychoanalysis, even legal theory) feature more prominently. The marking is very different too - originality is prized much more highly.
Make sure you work hard but also get involved in plays, societies, even academic seminars if they take your fancy – we have a fantastic range of societies at King's.
Don't put off the question of careers and employability, either – you're in the middle of London, so make the most of it! Come here with an open mind and you'll excel.
Outside of your course, what other things have you been involved in while at King's?
Quite a bit, actually! I've always been a keen creative writer – both poetry and prose – and have written creatively throughout my degree, being published by King's journals such as 'Of Cabbages and Kings' and 'KCL Literary Journal', entering (and coming third in) an English department competition judged by Ruth Padel, and being a member of the creative writing society.
I've also achieved success outside King's, winning international arts competition 'Create! Art for Autism 2014' with my poem, 'Creativity'. Many of my poems focus on a lived experience of autism, and have been published in journals such as Disability Arts Online, Creative Future, Anomalie and even the British Psychological Society. 
Being in London has also given me the chance to get involved in numerous other projects I wouldn't have been able to otherwise. I'm a Youth Patron for Ambitious about Autism, the Executive Research Officer at the Elimination of Domestic Violence Youth Council and the first ever ambassador for Access Professions.
I've also been able to attend a large number of open days for various careers, all placed in London – if it wasn't for King's position in London, I wouldn't have been able to do so.

Finally, I was thrilled to represent King's in an academic field when me and fellow student Elizabeth Boyce became the first English Literature undergraduates at King's to have work published in 'The Paper Shell Review' - an academic undergraduate journal.
I've been sure not to waste any time – given I've had an awful lot of it at university which I won't get at work – and have loved every minute of it.
In this story