03 October 2019
Exhibition exploring modern slavery opens at the Arcade at Bush House
A major new portraiture exhibition at the Arcade at Bush House, 'Sara Shamma: Modern Slavery', explores the impact and recovery from modern slavery.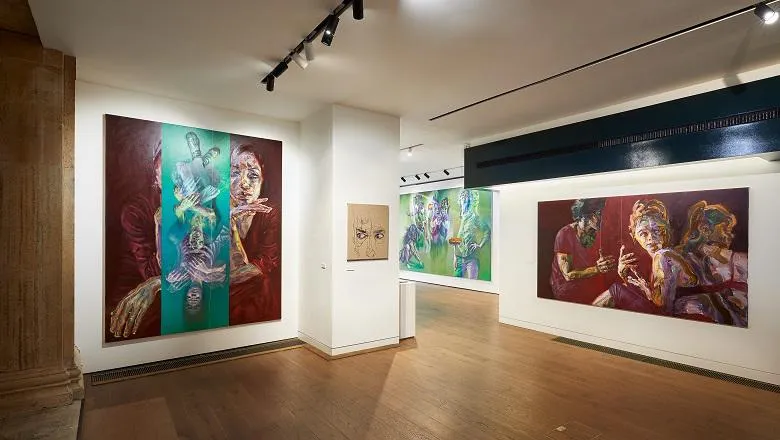 Sara Shamma: Modern Slavery, 2019. Photo by Luke Walker. Image courtesy of the artist
The exhibition is the culmination of a King's Artists residency by Sara Shamma, one of Syria's most celebrated artists, working with the Institute of Psychiatry, Psychology & Neuroscience (IoPPN) and the Helen Bamber Foundation. Sara Shamma: Modern Slavery is curated by Kathleen Soriano.  
The residency has been inspired by Shamma's experience of hearing about women and girls who have been kidnapped by ISIS in Syria and Iraq and displayed in slave markets. This moved the artist to explore and draw attention to the psychological impact of modern slavery. Through interviews with survivors of modern slavery and professionals working in the field, Shamma brings a raw and unique artistic perspective to one of today's greatest challenges. 
Dr Siân Oram is Senior Lecturer in Women's Mental Health at the IoPPN, and co-lead of the UK Research and Innovation-funded Violence Abuse and Mental Health Network. Data generated from Shamma's residency will feed into Dr Oram's research and will inform existing projects aimed at reducing the risk and impact of violence against women.
Speaking at the exhibition launch, Dr Oram said: 'Modern slavery is a problem that can be hard to comprehend let alone depict. I hope this project will contribute to a change in how people think about survivors of this form of abuse as real people with real lives, relationships and hopes. Sara has brought out very particular nuances to the research and I've learnt hugely from her process and how she immerses herself in her work.'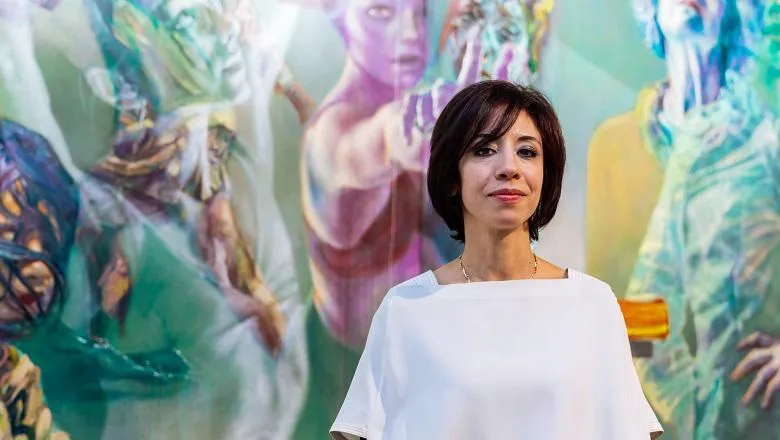 Sara Shamma: Modern Slavery, 2019. Photos by Oleg Kungurov. Images courtesy of the artist.
During her residency, Shamma has conducted research interviews with women survivors of modern slavery who are receiving support from the Helen Bamber Foundation. The interviews have informed Shamma's creation of large-scale paintings which are exhibited at the Arcade at Bush House. The exhibition is accompanied by a book of essays and insights into the project by the artist, Dr Oram and other leading experts in the field of modern slavery.
Sara Shamma commented: 'As an artist I draw inspiration from the immediate world around me. At certain points in my life, that immediate world has been confused, angry and frightening. Those personal, close encounters have motivated me to engage with the issues and to use my medium, painting, to comment and challenge the status quo. I hope that my responses to, and engagement with survivors, through this residency at King's College London, will help raise awareness and understanding of this very live issue.'
At the launch, Professor Evelyn Welch, Provost & Senior Vice President (Arts & Sciences) at King's College London, said: 'This exhibition gives us a truly deep understanding and a sense of anxiety as we get pleasure from the extraordinary bravura and the tragic nature of the subject. King's Artists provides opportunities for remarkable individuals like Sara to work within our faculties across the university. It supports collaborative residencies that embrace creativity and take risks, developing new thinking and creative outputs. This exhibition visually represents the emerging narratives of recovery through these astonishing portraits.'
Sara Shamma: Modern Slavery, is open from 1 October until 22 November 2019 (10:00-17:00). Admission is free.
Sara Shamma: Modern Slavery is a collaboration between the Institute of Psychiatry, Psychology & Neuroscience (IoPPN) at King's College London and artist Sara Shamma as part of King's Artists. It is supported by the King's Sanctuary Programme and by the university's Culture team.
The Arcade at Bush House is part of the Strand Cultural Quarter at King's College London, home to a diverse programme of events, installations and exhibitions featuring the #KingsCulturalCommunity
An exhibition at the Arcade in Bush House drawing attention to the issues of human trafficking.