31 October 2018
Exhibition to showcase work by King's artists-in-residence
Over the past year three artists-in-residence, from the King's Artists programme, have been based in the Department of Informatics. Nassia Inglessis, The Brooke Roberts Innovation Agency and Rebecca Lynch have been working with academics and students to explore a range of topics. An exhibition in Bush House is showcasing the results of their collaborations until 15 December 2018.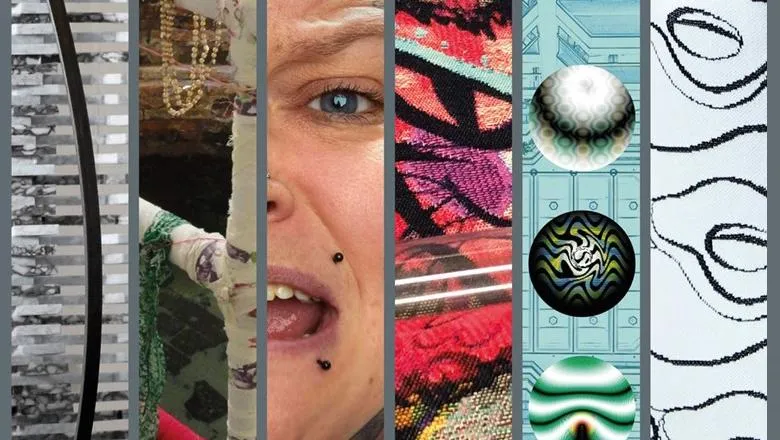 Collage of King's artists-in-residence work
Nassia Inglessis and Dr Richard Overill, Senior Lecturer in Computer Science have been exploring disobedience in AI and what this could look like. They hoped to use the collaboration to create physical and digital instantiations of disobedience that will challenge conventional perceptions.
Nassia has created an interactive sculpture, Disobedient AI, to explore ideas of human-AI coexistence. She will also be running a workshop for Informatics students during the exhibition period.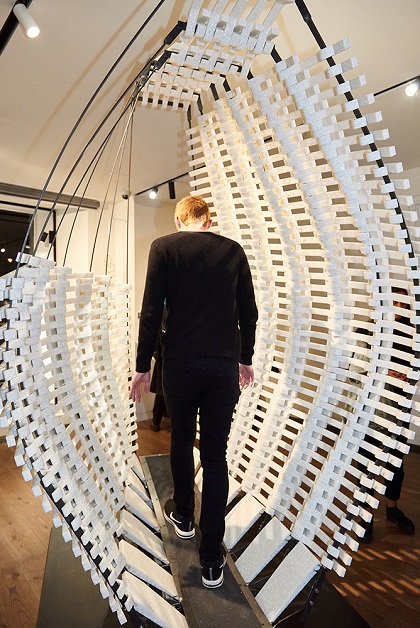 Richard, whose research focusses on digital meta-forensics, explained the collaboration has helped Informatics students to think outside the box about AI and Disobedience. He said the collaboration has been: 'a valuable opportunity to think off-piste about the creative potentialities of disobedience.'
The Brooke Roberts Innovation Agency (BRIA) has been working with Dr Matthew Howard, Lecturer in Informatics (Robotics), to examine the possibilities for digital knitwear design and wearable technologies such as sensors knitted into garments for data collection.
Brooke and her team spent time at King's engaging with both research and teaching. Throughout the year they ran a series of workshops in the Wheatstone Lab, teaching students and staff skills in knitting. Later, they worked with Dr Howard's research group on machine knitting with conductive textiles, with a view to developing stretch sensors.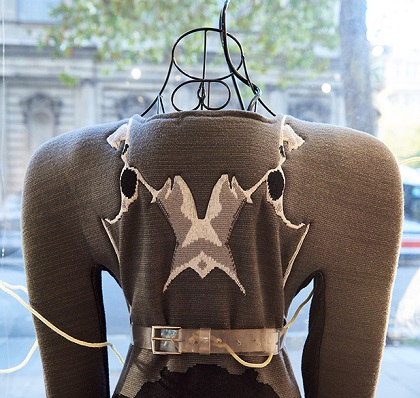 Matthew, whose research focusses on machine learning as applied to robotics, has been involved in similar programmes in the past, including working with embroiderers, enamellists and glass makers, both within and outside King's College London. Having found it a valuable way to learn about making and crafting skills, he was keen to get involved with the King's programme. Matthew and Brooke found a common interest between textile design and developing wearable, and clothing embedded, technology.
Matthew explained the benefits of such as collaboration: 'Working with artists in this way can provide new ways of thinking, and give access to making skills that are not ordinarily available through traditional, formal sources, such as textbooks or teaching programmes. It provides a forum for creativity, by giving students of technical subjects (engineering, informatics, physics and maths) opportunity to work with their hands, on things they ordinarily wouldn't do.'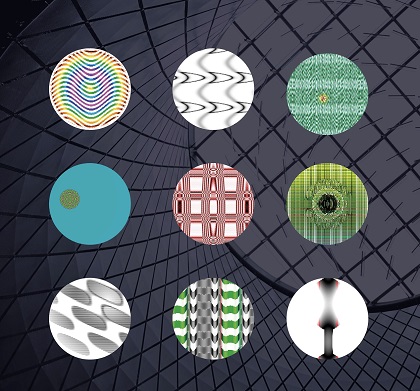 Rebecca Lynch, creative-writer-in-residence and Dr Elizabeth Sklar, Reader in Computer Science have been reflecting on potential futures made up of human-robot societies. They developed experimental short films imagining technological futures for human-robot societies. The artwork was inspired by King's state-of-the-art robotics research and explores the design, development and testing of future robotic technologies.
Alongside the exhibition in Bush House Arcade there will be a series of events run by the collaborations.
In this story