28 February 2018
Fake news: a roadmap
Fifteen MA students studying strategic communications in the Department of War Studies have published a book jointly with NATO, examining 'fake news' - a well known but up until now poorly understood phenomenon.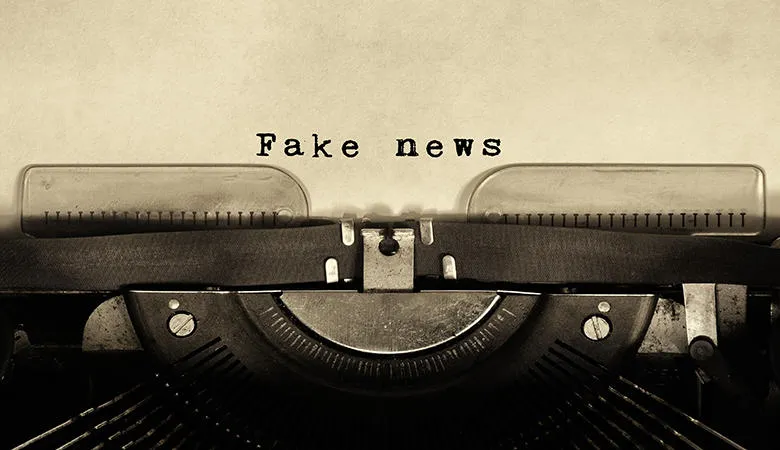 'Fake news' written on a typewriter
Fifteen MA students studying strategic communications within the Department of War Studies have collaborated with NATO to publish the first definitive analysis of the growing phenomenon of 'fake news' in a new book, 'Fake News: A Roadmap'.
The book is the first output from a research partnership between King's College London's Centre for Strategic Communications and the Strategic Communications Centre of Excellence at NATO (NATO StratCom COE), the world's largest politico-military alliance. The book was launched on 28 February at a joint King's and NATO panel event, in a central London location.
Fake news can be defined as the dissemination of false information via media channels (print, broadcast, online). This can be deliberate (disinformation) - the manipulation of information with the purpose to mislead -  but can also be the result of an honest mistake or negligence (misinformation). The students' research suggests that although disinformation and misinformation are not new,  rising populism means that fake news now has greater power to manipulate and deceive.
Today's citizens are faced with a greater variety of, sometimes contradictory, information, disseminated across a wider range of media – including social media – more rapidly than ever before. Meanwhile, news outlets come under increasing pressure to post news stories quickly, increasing the risk of inadvertently spreading misinformation. Those who seek to spread fake news purposefully build on suspicions that political actors or systems are following 'hidden agendas', contrary to the interests of marginalised groups.
Today's 'fake news' thrives in a culture with growing scepticism towards sources of information that were previously considered authoritative, such as academia, journalism and science. Meanwhile policies are developed increasingly that only consider a limited range of evidence. 
Rather than 'telling people what to think', the researchers argue that Governments can play an important role in limiting the public's exposure to fake news by bringing in regulations to limit its spread. Political institutions and the media need to work hard to actively promote and justify their integrity and credibility. Meanwhile, and perhaps counter-intuitively, choosing not to respond to fake news may be an effective counterweight in some circumstances: repeating misinformation, even when aiming to correct it, can reinforce rather than mitigate false messages.
An executive summary of the book has been submitted to a UK Parliamentary Select Committee Inquiry into 'fake news'.
Speaking in a video to mark the launch of the book, the editors Jente Althuis and Leonie Haiden, former MA students in the Department of War Studies and now both doctoral researchers in the King's Centre for Strategic Communications, said that they had been overwhelmed by the interest in the book from businesses, government and NATO: "we are doing research for society, to understand the problems we are facing, and trying to come up with solutions for them", they commented.
'Fake News: A Roadmap' is jointly funded and published by King's and NATO StratCom COE. Students researched and authored the book when studying strategic communications as part of their master's courses: a new full MA course in Strategic Communications will begin at King's in September 2018.
Receive a free copy of the book when you sign up to the King's Centre for Strategic Communications mailing list.