09 April 2020
Fastest British woman Dina visits King's 'Walk of Fame'
Dina Asher-Smith, Britain's fastest woman, recently visited her new window on the Strand alumni display.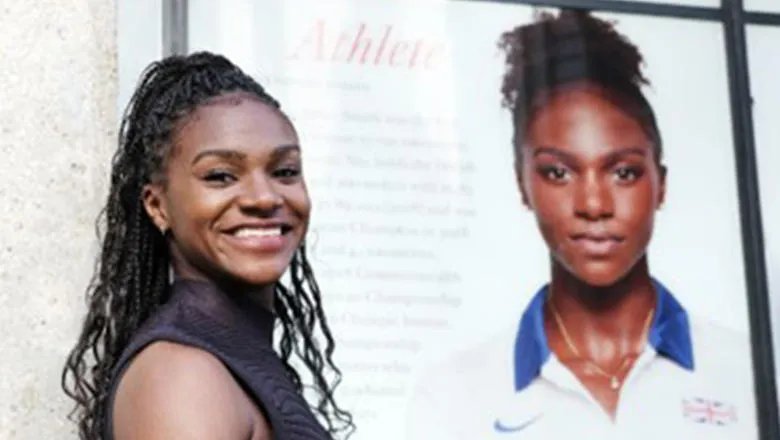 We were very pleased to welcome alumna Dina Asher Smith (History, 2017) back to King's recently to visit her new window on the Strand alumni display.
Dina is amongst the eight brilliant King's alumni whose photographs were added to the Strand window display in 2019, including Susan Gilchrist FKC (English, 1987), Harriet Green OBE (Medieval History, 1983) Horton Africanus, Michael Levitt (Physics, 1967), Edith Morley, Sarah Mullally (Nursing, 1984) and Edith Summerskill. She joins King's alumni old and new, including the likes of Florence Nightingale, Peter Higgs (Physics, 1950; MSc, 1952; PhD, 1954) and Ciceley Saunders (Nursing 1944 and Medicine, 1957), who are celebrated with windows on what has become known as King's 'Walk of Fame'.
Dina Asher Smith was the first British woman to run 100 metres in under 11 seconds. She holds the British records at 100 and 200 metres with 10.85 secs (2018) and 21.89 secs (2019) and was the triple European Champion in 2018 at 100m, 200m and 4 x 100m.

Dina also won 2018 Commonwealth Games and European Championship gold medals, 2016 Olympic bronze and 2017 World Championship silver in the 4 x 100m relay.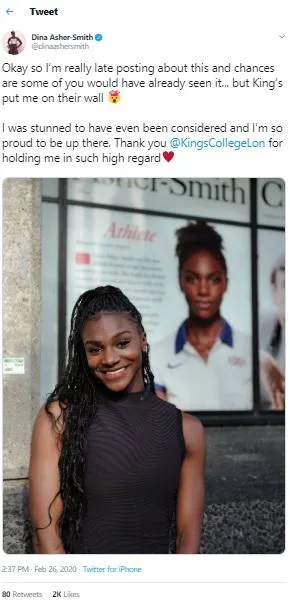 Christine Ayre, Head of Brand Design at King's said:

'We showcase a slice of outstandingly distinguished King's people in our Strand windows – they represent our history and demonstrate how we have always been in the business of making the world a better place. This display has become iconic since it first appeared in 2008 and is an enduring testament to the communicative power of creative design.'