19 July 2017
Film Studies student Sam Davies wins at King's Cultural challenge 2017
Sam Davies, a student of English and Film studies is one of the four winners at this year's fifth annual King's Cultural challenge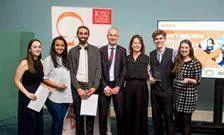 Challenge winners pose with the jury
Sam Davies, a student of English and Film studies is one of the four winners at this year's fifth annual King's Cultural challenge. Sam's winning idea is titled Synthate – An online forum to unite makers and performers to focus on the creation of art that encourages diversity and a positive attitude towards learning about what makes us different. More than a 100 students across the college and the Faculty of Arts & Humanities participated in the challenge.
More about the challenge
Each year, the challenge calls upon all King's students to inspire debate and innovation around how art and culture can affect positive change in the world. Acknowledging recent global and political developments, this year's challenge asked students to devise innovative projects, initiatives or activities to answer the following question: In a divisive social and political climate how can arts and culture drive social change?
The Culture Hack
The Challenge final was followed by a Cultural Hackathon where more than 100 students across eight faculties were provoked by cultural industry experts from some of London's most prestigious cultural institutions: Royal Opera House, Southbank Centre, V&A and Roundhouse. The provocations focused on topical, real-world challenges faced by the organisations and were designed to inspire students' creative thinking and problem solving abilities.
10 finalists were selected from 30 full applications and each received presentation coaching to develop a concise five-minute pitch explaining their core idea. Students pitched to an expert jury including King's senior staff, previous Challenge winners and leaders from Challenge partners. The judges were looking for well thought-out ideas that showed initiative and explained how it would work in practice and how it would be funded and resourced.
Creating opportunities
While Sam will go on to pursue an internship with Challenge partners, the 10 finalists have received adequate recognition and exposure for their creativity and innovation. Details of previous Cultural Challenge winners' experiences working with the Challenge partners are available here. More information about the King's Cultural Challenge, which will run again in early 2018, is available on the student opportunities pages on the King's website.