04 September 2017
Film Studies students screen short film at BAFTA 2017
King's students will screen their short film Girl in the Bubble at this year's BAFTA award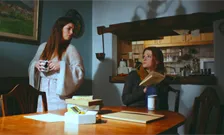 Girl in the Buble
King's students from the Department of Film Studies and other Arts & Humanities departments will screen their short film Girl in the Bubble at this year's BAFTA awards in London. Cameron Richards, Megan Stewart, Rob O' Kelly and Michelle Barnette founded their production company These people make pictures at King's, after working together on a web series called Hero.
Girl in the Bubble is a first full short film from their company, and three more are in the pre-production stage. Ahead of the move into short films, the group have made promotional videos for schools in England, entrepreneurs, musicians, a charity, a fundraising event, and a new business launch. The screening is a collaboration with production company Imlach Films, which has chosen to screen the short film alongside their own at BAFTA.
Taking on challenges
Speaking to The Tab about the production, third year student and co-founder Megan said: 'We had hired some great kit to film a business promotion and by chance had the kit for a day longer than we needed it. So we wrote the script, got our crew together, and completed filming within four days.'
New to the film production industry, these Arts & Humanities students who study English, Film and History learnt the financial, legal and operational logistics of running a business quickly enough. At present, their priorities lie in making films with friends and learning about the industry while taking initial steps towards establishing their careers.
Tickets for the film screening on 5 September are available online.