10 July 2019
First drug for preventing cluster headaches
The first ever drug to help prevent cluster headaches has been shown as effective in a clinical trial led by researchers at King's College London.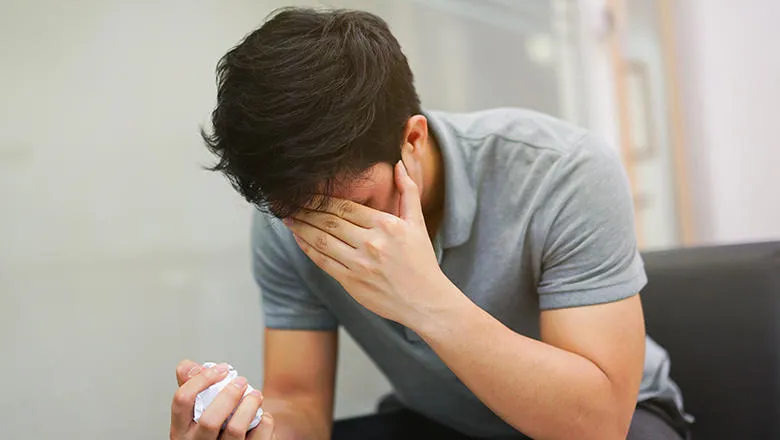 Cluster headaches are extremely painful and can last from 15 minutes to three hours. Patients often describe cluster headaches as the worst pain they have ever known. Although relatively rare they have a debilitating impact on quality of life for sufferers, and there are currently no preventative treatments licensed in Europe.
An international team led by Peter Goadsby, Professor of Neurology at the Institute of Psychiatry, Psychology & Neuroscience, found that the drug galcanezumab reduced the number of cluster headache attacks for three weeks after a single injection. The results are published in the New England Journal of Medicine, one of the world's most prestigious medical journals.
Galcanezu­mab is a monoclonal antibody which has been shown to help prevent migraine in previous studies. It bonds to a protein called 'calcitonin gene–related peptide' (CGRP) which is known to play a role in cluster headaches.
Patients enrolled in the trial had at least one cluster headache attack every other day, and up to eight per day. Of 106 patients taking part, 49 received galcanezumab and 57 received a placebo. Both the drug and the placebo were given by injection once a month for two months.
On average, those patients who received galcanezumab had 8.7 fewer attacks per week over the first three weeks, compared to 5.2 fewer attacks per week for those patients receiving a placebo – a difference of 3.5 fewer attacks with the drug. By week three, 71% of patients receiving galcanezumab had at least 50% fewer headaches compared to 53% of those receiving a placebo.
Professor Goadsby, who is also Director of the NIHR‐Wellcome Trust King's Clinical Research Facility, said: 'It is hard to overstate how awful a cluster headache attack is. It is a condition that ruins lives. Patients have very few choices for treatment and those that exist come with side-effects, so this development is hugely important for patients and 100% good news.'
'For some patients in the trial their attacks were completely suppressed and for many they were partially suppressed, with no meaningful side-effects. This trial really shows the value of careful research. Future work will explore whether a more frequent dose would be more effective, bringing hope to people with this horrible disorder.'
From week four until the end of the trial at week eight, the differences between patients who received galcanezumab and placebo reduced. The researchers say this may be because cluster headaches come in bouts and often improve of their own accord after some time.
Galcanezumab is manufactured by Eli Lilly, who funded the trial. In November 2018 the EU approved galcanezumab in Europe for treating migraine, and in June 2019 the FDA approved the drug in the US for treating cluster headaches, based on the results of the current trial.
A second paper, also published in the New England Journal of Medicine, reports a clinical trial of the drug rimegepant for treating migraine. The trial involved over 1000 participants, and among those who received rimegepant, 20% were pain free after two hours compared to 12% who received a placebo.
Rimegepant, which also acts on CGRP, is manufactured by Biohaven Pharmaceuticals who funded the trial.