02 October 2018
First 'Entrepreneur in Residence'
The Institute is delighted to announce that David Walsh has been appointed as our first 'Entrepreneur in Residence'. The new role will support student, staff and alumni founded ventures on the King's20 Accelerator.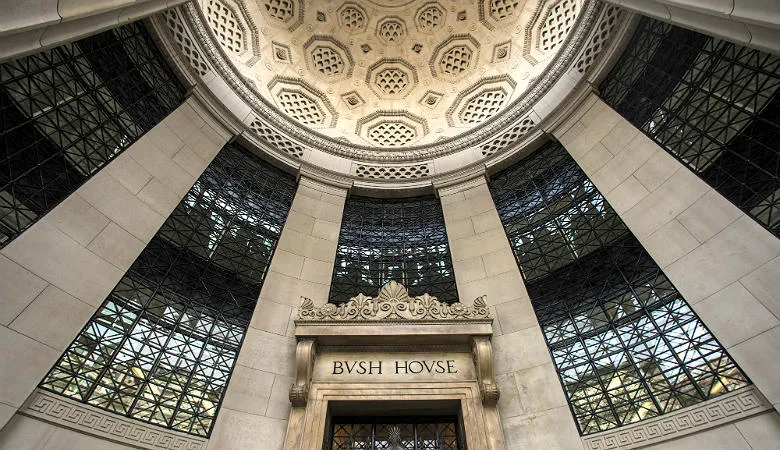 Bush House
David Walsh is a King's alumnus (Human Environmental Science/Natural Sciences), leading entrepreneur, investor, technologist and founder and former CEO of KPMG Crimsonwing. After working at IBM, David founded Crimsonwing in 1996. The tech business made progress without capital or loans and built a solution centre in Malta in 1998 – virtually founding the IT industry there. In 2007 the group business, now operating in three countries, was floated and proceeds were used to expand the business through acquisitions and into new countries.
 Speaking about the appointment David said,
 "I am delighted to be asked to be the first Entrepreneur in Residence at King's College London's Entrepreneurship Institute and I'm really looking forward to working with the new cohort of young entrepreneurs in the King's20 Accelerator. I first became involved in the Accelerator about a year ago, and it's been fantastic seeing the progress the start-ups have made. Not only have I been able to impart my experience and skills, I've also learned a lot myself from the King's programme, leadership and mentoring teams – it's been a hugely enjoyable experience.
This Residency role is a new initiative – which is great for me as I get to shape and define the value it can add. Clearly I'm directing my time as advisor to the Accelerator teams, but I am a practitioner and wealth creator, and so one key aspect of the role as I see it is to also create and run a new start-up in the year ahead. I believe it's important to demonstrate the qualities needed to be a successful entrepreneur, and to work alongside everyone else – hopefully it will be a success! No pressure!"
Accelerator Manager Ed Halliday said;
"After playing a vital role as a constant mentor for the 17-18 cohort and supporting four of the ventures via the very generous David Walsh Scholarships for Entrepreneurship, we are delighted that David has taken on the role of Entrepreneur in Residence at the Institute to share his huge knowledge of business and tech entrepreneurship with the incoming ventures.
 As Entrepreneur in Residence, David will mentor ventures each fortnight, helping them to tackle specific problems and prepare their ventures for future success. Over the past 12 months, our entrepreneurs have benefited from his deep expertise and rigour to strengthen their business plans, formalise pricing structures, embed good governance, and prepare for investment. We are very grateful that our latest cohort of 20 ventures will have even more access to David's time this year."
In 2010 David was awarded an honorary Malta Order of Merit by the Malta President for services to the Maltese economy and in 2015 Crimsonwing PLC was acquired by KPMG to help it advance its push into Cloud solutions and Microsoft technology.