09 April 2018
Former Youth Worker Leads New Investigation
Tania de st Croix, Lecturer in the Sociology of Youth and Childhood, will study the effects of impact and measurement culture on community-based youth work. The project is funded by an ESRC New Investigator Grant.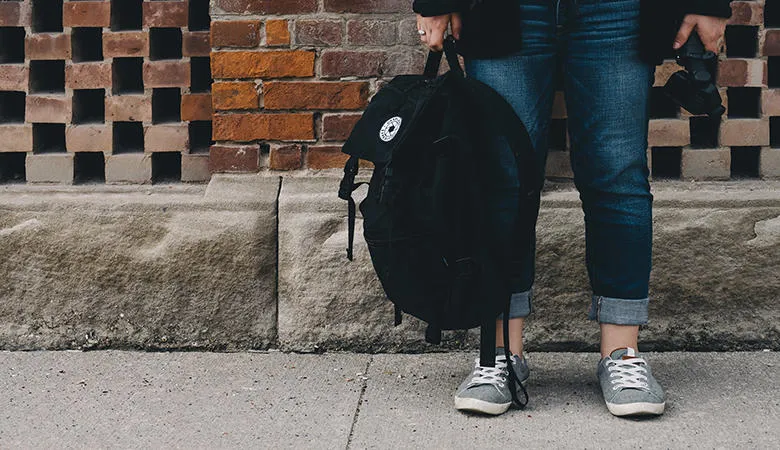 Woman with a backpack
A new three-year King's College London research study starting this month will review how the 'impact agenda' has affected youth workers and young people. The investigation will be led by Dr Tania de st Croix, who spent  twenty years  as a youth worker, most recently in Hackney, north-east London,  before joining King's College London.
Commenting on the project, entitled 'Rethinking Impact, Evaluation and Accountability in Youth Work', she said: "The increased focus on outcomes and impact in youth work recent years has  enabled a sharper focus on evaluation and greater critical reflection on purpose."
"However, measuring predefined outcomes can be inconsistent with the informal, open, and youth-centred nature of youth work. For example, questionnaires asking young people about their attitudes or behaviour can be intrusive. Impact measurement is particularly challenging in community-based open youth work settings"
"Youth work can be life-changing for marginalised young people and this collaborative research project will share and develop approaches to evaluation that are congruent with good youth work practice."
The three-year qualitative research project will involve 146 participants through in-depth interviews, focus groups and participant observation and youth participatory methods (photography, peer interviewing, and film-making). It will focus on open youth work settings that are based on informal education and long-term relationships e.g. youth clubs, street-based youth work, girls' groups, LGBT youth work, and young refugee projects.
The collaborative approach will involve young people, youth workers, managers, funders and policy makers/influencers. A short research visit to the USA will enable comparisons with a context in which youth impact approaches are more thoroughly embedded.
The project is funded by an ESRC New Investigator Grant to study youth work in much greater depth. The project will run from April 2018 to March 2021.
In this story