19 March 2018
Four in Five Brazilian Women in London have Experienced Gender-Based Violence
A trans-national research project examining the experience of violence amongst Brazilian women in London and Rio de Janeiro, has revealed that many have experienced gender-based violence whilst few have reported it.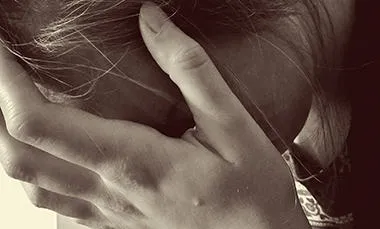 A woman holding her head in her hands.
New research presented by Professor Cathy McIlwaine (Department of Geography, School of Global Affairs) has revealed that four out of five Brazilian women living in London have experienced gender-based violence in their lifetime: with half experiencing some form of violence when living in London.
The research, the result of a transnational project on violence against women and girls (VAWG), was presented by Professor McIlwaine and project colleagues, at an event at the Embassy of Brazil in London on 14 March.
The research found that 56 per cent of women who had experienced an episode of violence in London never reported this, due to struggles with English or insecure immigration status, with associated fear of deportation. Emotional and psychological abuse was found to be the most common form of VAWG against the Brazilian women living in London. Strikingly, 78 per cent of the violence was recorded as taking place in the public sphere, not behind closed doors.  
Over two hundred Brazilian women living in London were interviewed, along with 800 women living in Complexo da Maré, the largest Favela in Rio de Janeiro.
In contrast with the experience of Brazilian women living in London, physical abuse was the most common form of VAWG reported by those living in Rio. Sixty-four percent of those who had experienced gender-based violence in Rio did not report this to the authorities.
Commenting on the findings at the launch event Professor McIlwaine said: "By working in a transnational way between the UK and Brazil, we have been able to show that deep-rooted structural gender inequalities underlie VAWG everywhere, and that it varies in nature in different places requiring specific responses."
She went on to say: "The recent global #MeToo campaign has been really important in highlighting that VAWG is not just domestic violence in the home. Yet it has been less likely to recognise the voices of more invisible or marginalised women."
"We found that Brazilian women's right to seek help and support when they were exposed to VAWG was routinely undermined in London. Women who struggled with speaking English or whose status was insecure were especially fearful of reporting because of fear of deportation. It is essential to acknowledge women's human rights to be protected from VAWG, regardless of their immigration status."
'We can't fight in the dark': Violence Against Women and Girls (VAWG) among Brazilian Women' was funded by the Economic and Social Research Council (ESRC) and the Newton Fund as part of the Urban Transformations programme and led by Professor Cathy McIlwaine and Professor Paul Heritage (Queen Mary University of London). The research project was a collaboration between King's College London, Queen Mary University of London, the Latin American Women's Rights Service in London, Redes da Maré (Networks of Maré) and the Federal University of Rio de Janeiro in Brazil.
In this story