07 February 2019
'Rosalind Franklin' rover to search for new life on Mars
The UK made ExoMars rover, due to roam the surface of the red planet in 2021, has been named after former King's scientist - Rosalind Franklin.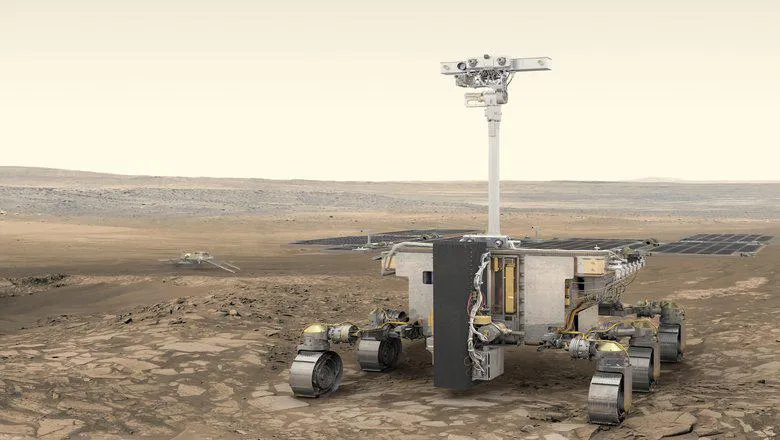 Mars Rover
ExoMars rover - credit: ESA/ATG medialab
The name was revealed this morning by Science Minister Chris Skidmore and Astronaut Tim Peake in the 'Mars Yard' at Airbus Defence and Space UK in Stevenage, where the rover is being built.
'Rosalind Franklin' was chosen by a panel of experts from a shortlist submitted by the public, following a naming competition opened in July last year in which nearly 36,000 people responded.
As a research scientist at Kings in 1952, Franklin captured the famous 'Photo 51' that showed, for the first time, that DNA molecules had a clear X-shaped pattern. 'Photo 51' is one of the world's most important photographs, as it provides confirmation of the helical structure of DNA. It revealed the secret structure of the DNA molecule which governs heredity. Franklin's image served as the foundation upon which James Watson and Francis Crick of the University of Cambridge built the first correct model of the DNA molecule.
In 1962, James Watson, Francis Crick and Maurice Wilkins of King's were awarded the Nobel Prize for their work on DNA. Franklin's crucial contributions to the DNA discovery and to science more broadly have been consistently underplayed in favour of those of her male colleagues, and the Nobel Prize is never awarded posthumously.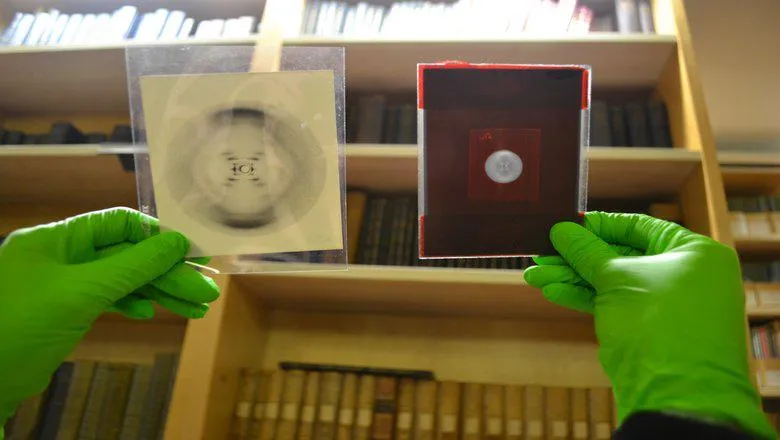 Photo 51
Picture: The original Photo 51 (right) alongside a print courtesy of Archives Services and Library & Collections at King's.
Chris Skidmore, UK Science Minister said: "It is a tremendously fitting tribute that the rover has been named after Rosalind Franklin as she helped us understand life on earth and now her namesake will do the same on Mars.

"Just as Rosalind Franklin overcame many obstacles during her career, I hope 'Rosalind the rover' will successfully persevere in this exciting adventure, inspiring generations of female scientists and engineers to come."

Over a third of the science instruments used in the ExoMars mission are led by women.
In November experts meeting at the National Space Centre in Leicester chose Oxia Planum near the Martian equator as the landing site for Rosalind due to its geology and the likelihood of finding signs of life. As the first European rover to traverse the surface of Mars, Rosalind Franklin will uniquely drill down to two metres into the Martian surface allowing the rover's scientific instruments to sample and analyse the soil, determine its mineral content and composition, and search for evidence of whether past environments could once have harboured life.

Tim Peake said: "This rover will scout the Martian surface equipped with next-generation instruments – a fully-fledged automated laboratory on Mars. With it, we are building on our European heritage in robotic exploration, and at the same time devising new technologies."
Brian Sutton, Professor of Molecular Biophysics at King's said: "It is most appropriate that the search for evidence of life on Mars should be associated in this way with the name of Rosalind Franklin, who made such a key contribution to discovering the secret of life on Earth. I am delighted to see her work recognised in this way."
Building on the rich history of biophysics at King's, the university is currently investing in biophysics research and education. In addition to the MRes in Molecular Biophysics, two new courses, BSc and MSci Physics with Biophysics, launch in September 2019.