15 November 2023
Full house for TikTok Chemist's Daniell Lecture
Almost 200 young people visited King's to hear from internationally renowned chemist Dr André Isaacs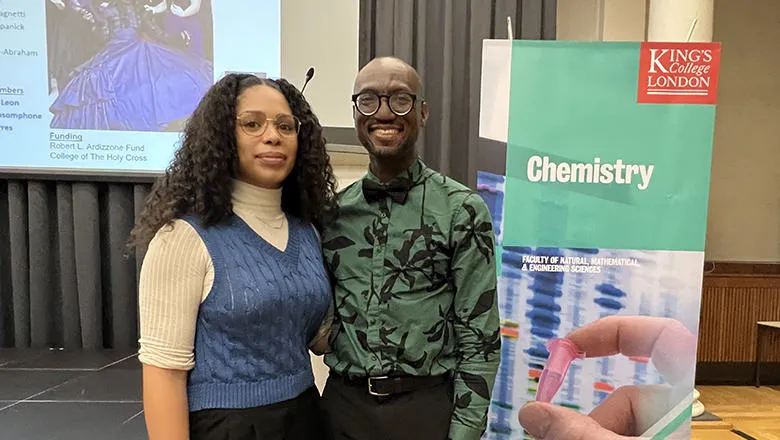 Dr Isaacs, Associate Professor at the College of the Holy Cross in Massachusetts and face of the popular drdre4000 TikTok account, spoke about how his research is helping to speed up the development of new antibiotics to combat antibiotic resistance. He also discussed his personal journey, including the barriers he has overcome to get to this senior role in his field.
The Daniell Lecture is organised by the Department of Chemistry, with chemists from around the UK and beyond invited to talk about their research and journey into science to an audience of young people. The series is named in memory of John Frederic Daniell, inventor of the electrochemical cell and first Professor of Chemistry at King's College London in 1831.
Ahead of the lecture, attendees got hands-on with some interactive chemistry demonstrations, learning how to use an industry standard Gilson pipette with our chemistry technicians and teaching fellows before using these new skills to undertake and analyse two colourful chemical reaction experiments.
Students then took their seats in a packed Great Hall, or joined us online, to hear first from Jhanelle White, a PhD student in Chemistry at King's. Jhanelle shared her journey into chemistry, exploring the challenges she faced deciding whether or not to go to university and the pressure of picking science over engineering or medicine. She illustrated these key points in her scientific career with the three periodic table posters she has owned throughout her life.
We then heard from Dr Isaacs. He gave the students a whistle-stop tour of the chemistry which takes place in his lab, explaining to the audience the underpinning theories and practicalities of click chemistry – a set of reactions which are simple and easy to run and yet produce very high yields.
I want you all to bring your full authentic selves to science, because we need you all."

Dr André Isaacs
Dr Isaacs finished by setting out his work as a leading campaigner for making chemistry more diverse and inclusive, and closed his talk with a call for action:
"Chemistry labs are a place to have fun. It's not a place to just be boring! I think we have to make sure students understand that chemistry is fun. You can have a lot of fun. You can be your authentic self. You can be who you are and you can become a great scientist. So for all of you who think that science is not accessible to you, it is alright, and I want you to remember that the field is changing in a number of ways. We want you to be a part of it. I want you all to bring your full authentic selves – whatever that is – to science, because we need you all. You are the future."
You can watch the full lecture here: 
We hope you will be able to join us either in-person or online for the 2024 Daniell Lecture.
In this story